Top 5 TV Feature Wall Designs To Maximise Your Space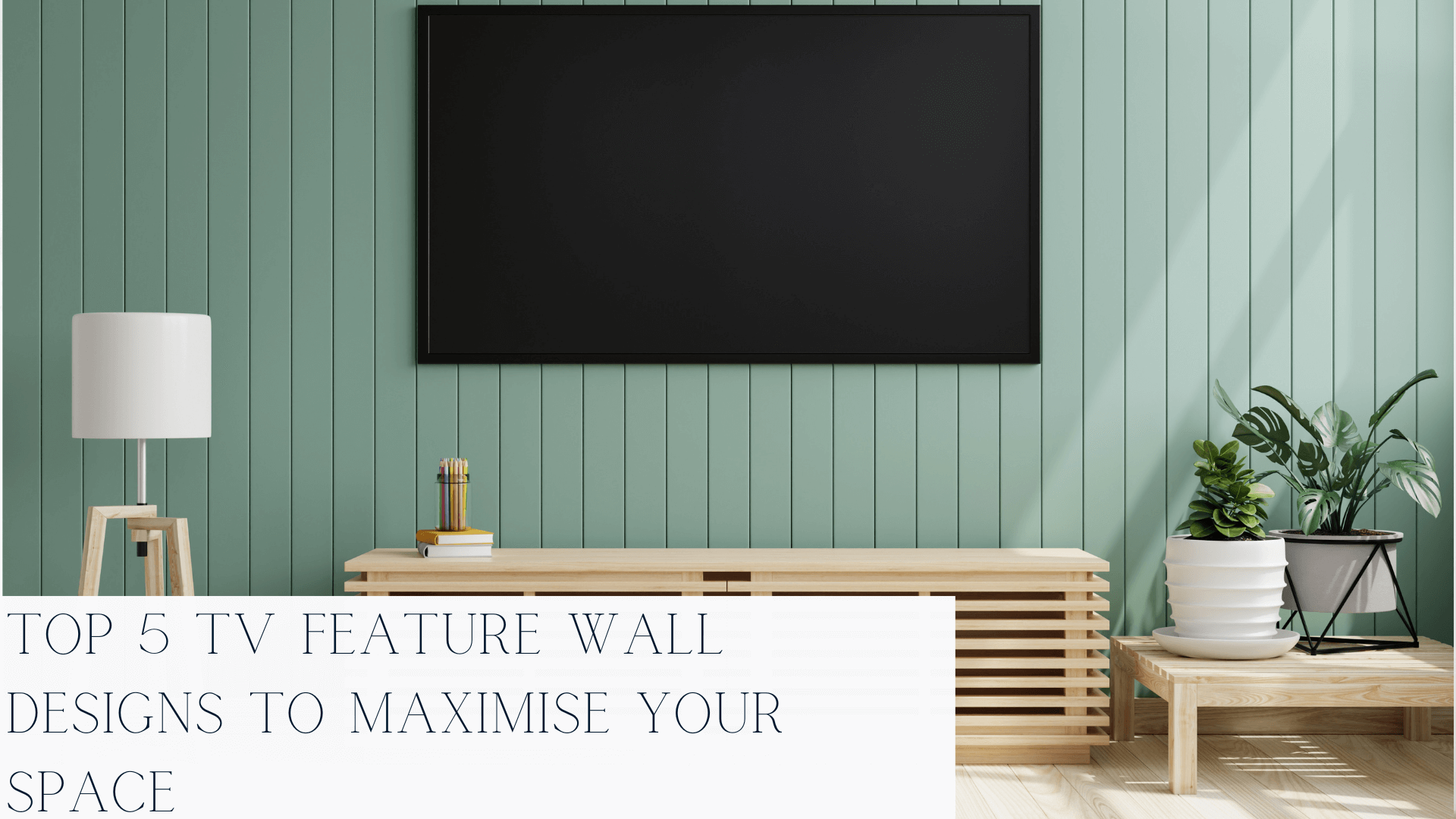 Feature walls are one of the best ways to blend a focal point into your home's structure. And the television can be incorporated into this space-saving design because it is still a great source of entertainment despite the popularity of more compact gadgets. A TV feature wall would create a stunning backdrop to your home.
Stand Mount vs. Wall Mount
The easiest way of setting up your television is by putting it on a flat surface. This is called stand mounting or table mounting. While this setup allows you to easily access ports at the back of the TV and store other equipment, it occupies much of the surface space. The television can also tip over and fall with even a small accidental push.
In contrast, you can place the TV on a wall across from your seating, allowing you to watch from a convenient position. The biggest advantage of mounting the TV to the wall is gaining a sizable amount of floor space that would otherwise be taken up by a TV stand or a media cabinet. It can also be aesthetically pleasing since it permits a more minimalistic look. Mounting your TV to the wall provides your entertainment area with a cleaner and less cluttered ambience. It is especially beneficial for people living in small apartments, condominiums, and compact homes.
Design #1 – Shuttered Feature Wall
Although televisions bring us some of modern life's simple pleasures, this big black box can become an eyesore in any room they are in. You would not love to stare at a black hole when your TV is not on. If you are torn between having the television at the forefront of your living room and hiding it, the best option is to keep it behind shutters. Hiding TVs has a long history and is a practical solution to merge them into the rest of the room's decor. You may opt for a sleek white shutter with a chevron pattern or a white-coloured sliding door to mask your flat-screen television. Choose a simple design, and then add a pattern, wallpaper, or colour to make your feature wall pop.
Design #2 – Recessed Lights
A neutral palette and proper lighting of the space enhance the spaciousness of a room. The recessed lighting behind the floating modular TV unit brightens the space while removing gloomy shadows. The pop-out design adds a feel of pop to your living room's sweetness. By using recessed lights, you get to isolate the TV feature wall design. These lights cast down towards the TV area, bringing the television into the spotlight. If you want a chic, brighter, and relaxing look in your home, you must consider this simple but amazing interior design.
Design #3 – Neutral Wall
Neutrals and whites have become cult classics when it comes to choosing prominent colours. Choosing a neutral colour scheme is a great way to try out design trends without looking too trendy. Neutral-coloured TV feature wall designs give the illusion of space and airiness. Feature walls, in particular, look aesthetic when painted white.
Design #4 – Marble & Wood Slat
The timelessness of marble and wood accents is undeniable. There is something luxurious about the great combination of misty veined marble and rich wood grain. These natural materials bring life to a modern apartment interior and can be incorporated in myriad ways. When done right, marble and wood combinations can create a backdrop for your television that is minimalist yet eye-catching. A slatted wood wall adds dimension to an entertainment wall. You can partially mount your flat-screen TV over the wooden slats, with its lower half hanging over a white, grey, and golden marble panel. You may add a strip of white LED lighting through the cross-section. It creates soft neutral backdrops of marble and wood that will not leave a sophisticated decor scheme falling flat.
Design #5 – Concrete Wallpaper
A concrete wallpaper can make an incredible accent for the right space. However, not every interior is suited for this look. Stone and concrete accentuate areas, executing realism and dramatic visual effects. Houses with a bit of "loft aesthetic" can be taken to the next level by integrating the look of exposed concrete or stone, especially behind the TV.
You can also incorporate bricks as a background for the TV for a touch of texture, unique character, and a dab of timeless charm sprinkled in the room. An exposed brick wall, especially in the living room, is an expression of the rich and historical past of the building. It is also a way of adding elegance and personality to an otherwise boring interior dominated by glass and stone.
Conclusion
Many other design solutions can also maximise a room's available space by incorporating the television onto the wall. But mounting and designing a well-executed TV feature wall will require the expertise of interior designers to ensure family safety and equipment longevity. Contact Style+Space for a no-obligation discussion about TV feature walls.