Switch to Peranakan Tiles for a Contemporary Home Design in Singapore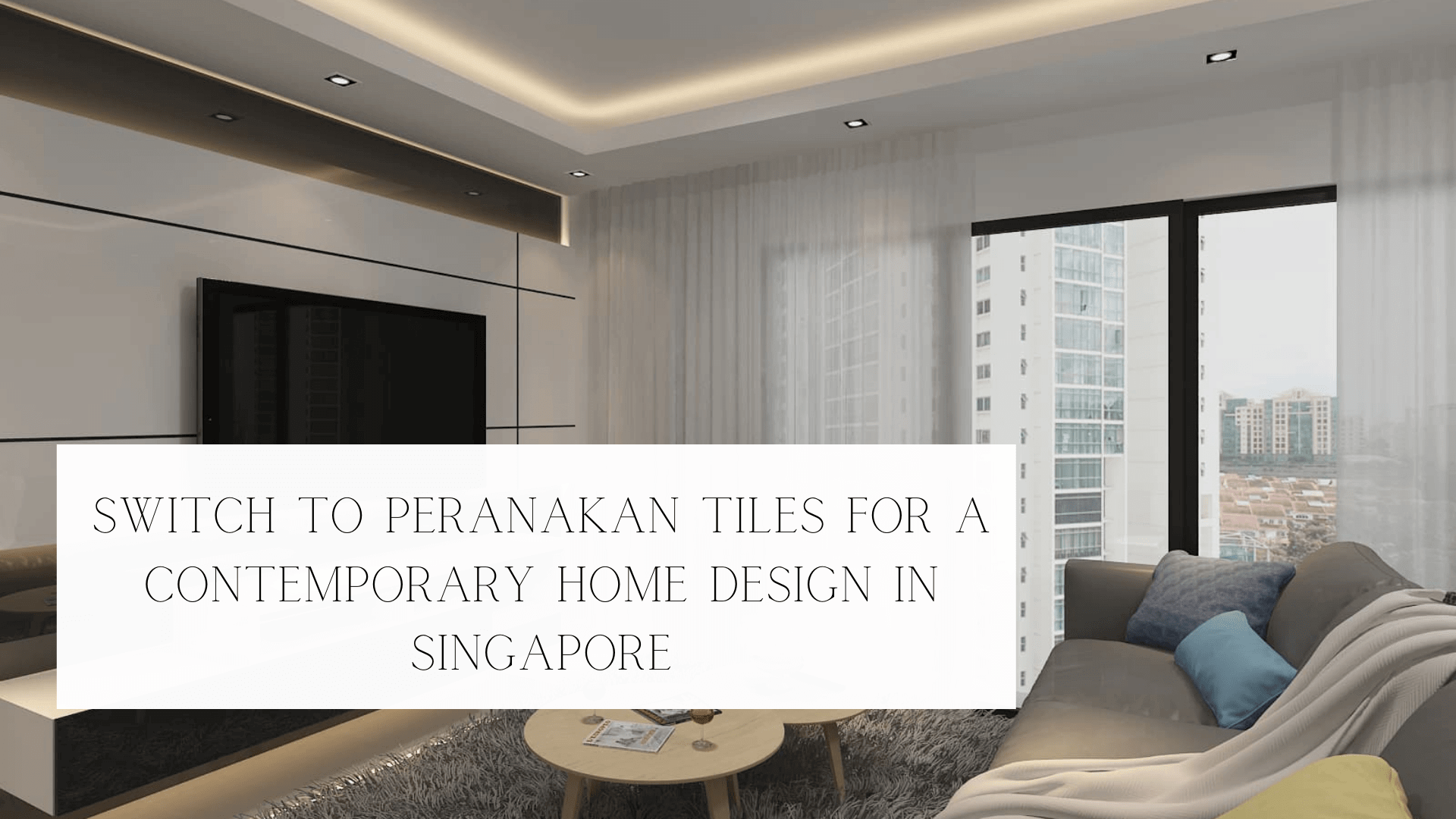 There's more to modern interior design than just white tiles and beige colour palettes. In fact, you can elevate your contemporary home design by incorporating nostalgic elements creatively. More specifically, using Peranakan tiles is a great way to allude to the rich and ornate history of traditional Singapore while adding more depth and texture to your home.
What Are Peranakan Tiles?
Produced in Britain, Belgium, and Germany, these tiles showcase interesting patterns and intricate detailing, which caught the attention of the Peranakans.
The Peranakans are people with mixed Malay, Chinese, or Indonesian heritage that live in certain communities in Malaysia and Singapore. When they discovered these colourful tiles, they used them as decorations in their shops and houses. Over time, they became the distinguishing feature of the Peranakan community.
Back in the day, these decorative tiles were primarily used as artistic panels for the hallways, porches, and courtyards. In addition, they adorned shophouse facades to symbolise wealth and prosperity.
What makes these tiles separate from the rest is their unique patterns and motifs that allude to oriental culture. As time passed, the patterns and images have evolved into something more geometric and modern. As such, they became more appropriate to incorporate in a contemporary home setting.
Where Can You Incorporate Peranakan Tiles At Home?
Despite the bold and busy patterns in Peranakan tiles, they remain quite versatile. For this reason, Peranakan tiles can be used to decorate different rooms at home.
Bathroom Wall Tiles
Tiles are most prominently seen in the bathroom because of their durability and water resistance. But rather than using boring white tiles, why not make it more visually captivating by styling your bathroom with Peranakan tiles?During your HDB resale renovation, you can hire a Singapore interior design firm to elevate your toilets with Peranakan tiles. For example, you can cover one wall in your shower with Peranakan tiles and leave the rest plain. This way, you can balance the busyness of the tiles with lighter, less saturated ones.
Kitchen Backsplash
Another great place to install these decorative tiles is in your kitchen. Using Peranakan tiles as a backsplash can add a modern vintage vibe to your kitchen. Complete the look by installing a white marble countertop to make your backsplash the centre of attention.
Flooring
But if you want to take it one step further, you can replace your flooring with Peranakan tiles. Doing so will set the tone for the space, so it's important to pick colours and patterns that suit your overall home aesthetic. Depending on how dramatic you want it to be, you can cover the whole floor or scatter the tiles strategically.
Living Room Feature Wall
Besides the floor, you can also use Peranakan tiles to create your own feature wall. Rather than using paint, you create more visual interest by incorporating patterned tiles. It will work as the perfect background for decorative elements you want to display.
Bedroom Headboard
Part of the contemporary design is being unconventional. So, one way to integrate this idea at home is to replace your traditional headboards with Peranakan tiles. This will build the foundation of your room design to achieve a unique look.
How Do Peranakan Tiles Enhance Your Living Space?
Because they feature designs that are so attractive and intricate, the result, when incorporated into any area in your home, is unparalleled.
They Add a Splash of Colour
If you're not yet ready to commit to a colourful and eccentric home design, incorporating Peranakan tiles as a backsplash is a great way to subtly add a pop of colour. But no matter how subtle it is, it will surely stand out.
They Play on Texture
More than adding colour, Peranakan tiles play on texture, thereby transforming your home into a visual and sensory experience.
They Create Bold Graphics
If you want to create a statement with your design, installing Peranakan tiles is the best way to do it. With their diverse patterns, you can achieve a bold and graphic look that will catch people's attention.
There's no doubt that everyone who visits your home will be intrigued by the dynamic design brought about by the Peranakan tiles. But if you want to get the best results, you need to engage with professional interior design services in Singapore.