Renovation Factors You Probably Didn't Know About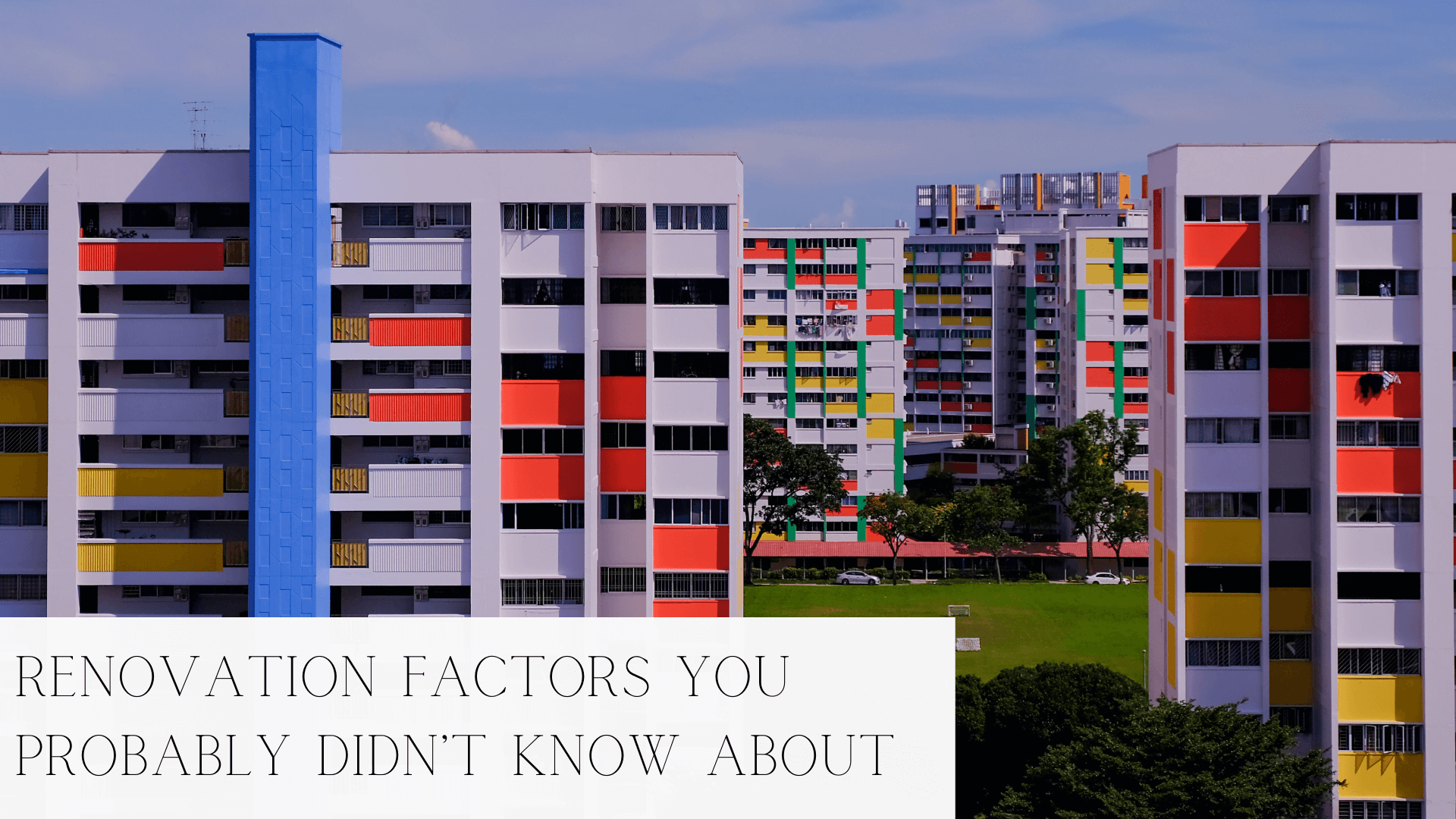 Many people assume that an HDB flat renovation is a straightforward process. However, it's more complex than that. Before proceeding with the actual renovation, you need to consider several factors.
Requirements
The preliminary requirements are important so your designers and contractors can prepare for the task ahead. These include:
Permit
Because an HDB complex is public housing built and managed by the government, it follows strict guidelines. One of which is the need to obtain renovation permits before proceeding with the project.To obtain this, you'll need to submit an application form alongside the plans, timelines, and other supporting documents to get approval from the HDB board. In most cases, it usually takes two to three days to get a renovation permit from the board.
Detailed Floor Plan
Another requirement is the preparation of the floor plan with complete details, including the dimensions of every room. This will enable HDB to evaluate the feasibility of your renovation plan and ensure that it meets the standard criteria. As such, this document must be submitted alongside the permit application form for approval.
Estimated Cost
To give the board a better idea of what you plan to execute during the renovation process, an estimated cost alongside the services needed from a Singapore interior design firm must be provided.
HDB Approval
Specific works such as hacking of walls or relocation of door will require written approval from HDB. HDB renovation permits must be obtained before embarking on any renovation work. Overlooking this may lead to costly penalties.
Timeline
After preparing the necessary requirements, the next thing you need to consider is the timeline of the project. This is especially crucial because this will affect your move-in date.
Most renovations can be completed within 12 weeks, however, other projects may take longer depending on the size of the space to be renovated and the complexity of the services needed. That's why it's important to coordinate with your interior designer and work around a feasible timeline.
Take note, the timeline presents an ideal scenario. It is still subject to change should any delays occur. To prepare you for such instances, be sure to get real-time updates from your interior design firm. Doing so can help you make contingency plans to overcome potential obstacles.
Renovation Crew
One of the most significant renovation components is the crew you hire. They can dictate the timeline, cost implications, and even the quality of your home. As such, it's important to get a renovation crew that you can trust.
Ideally, your crew should be composed of:
Interior Designer
Suppose you have no idea about the latest design trends or don't know where to start with the layout plotting. In such cases, you will need interior designers to help you out.They can propose the best styles to suit your personal aesthetics while maximising functionality. They will even provide virtual mock-ups to help you visualise your space better. In this sense, they form the backbone of your renovation operation. Without them, you might not be able to see the bigger picture of the whole project.
General Contractor
General contractors, on the other hand, can execute the plans for you. They offer services like hacking, masonry, carpentry, electrical works, etc., to transform your place completely.
Other Specialised Professionals
If you need other services outside the scope of a general contractor, that's when you find other professionals with specialised expertise. For instance, you want landscaping done on your property. You can bring in an expert in the field to help you formulate a plan. The same goes for your structural and mechanical needs. Finding individuals who are knowledgeable is recommended to get the best results.
While hiring these crew individually is an option, it tends to be more costly and time-consuming. The best alternative is to find a firm that offers an HDB resale renovation package promotion. This will benefit you greatly by reducing overall cost and saving you time.
Supply Shopping
Finally, consider the supplies you want to incorporate into your newly renovated home. This can be an overwhelming task as countless options are available to you. So, to help you in this endeavour, follow these tips:
Limit the places you want to shop
Check the quality of the material in person
Invest in high-visibility appliances
Now that you know what to expect, you can prepare better for your next renovation project.