HDB Maisonette Renovation Checklist: 6 Things You Need to Consider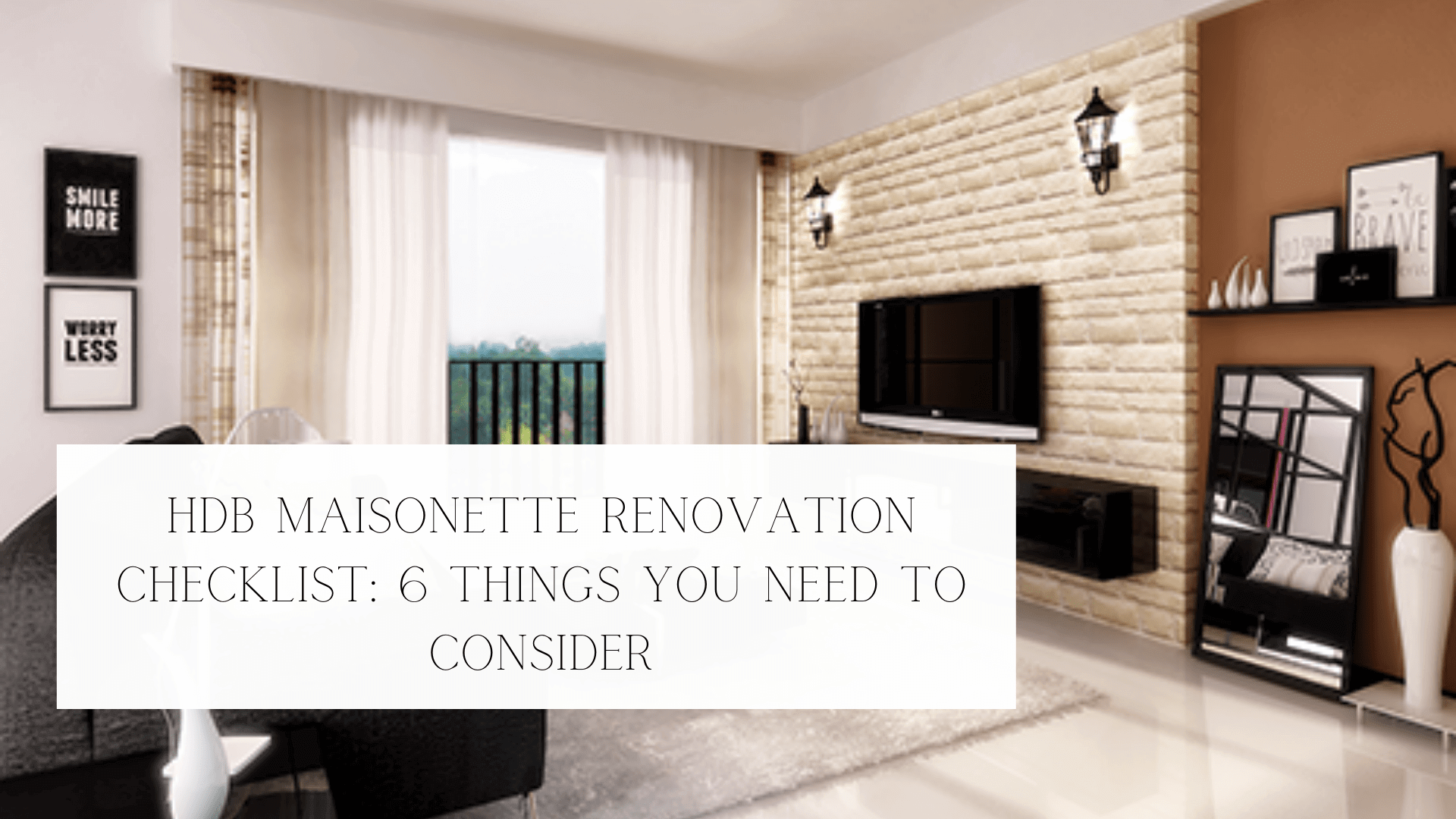 An HDB maisonette is generally a 2-storey HDB home with three bedrooms, a spacious living area, kitchen, and balcony. Because of its impeccable size, it's perfect for new couples and families of all sizes. So, if you live in a Maisonette, here are some of the things you need to consider when redesigning the space:
Basic Repairs
Similar to other HDB types, the first things you need to consider during a Maisonette renovation project are the needed repairs and replacements.
When inspecting your space with an interior designer, be sure to take note of the following:
Cracks in the walls
Electrical wires
Broken tiles on the wall or floor
Condition of the stairs
Loose window or door hinges
Since Maisonettes are old HDB designs, most of the built-in fixtures are outdated or broken. So it's important to address them first and foremost before proceeding with the renovation.
Flooring
Once the repairs have been made, you can start your renovation process, beginning with the floors.
Most HDB Maisonettes have built-in tiles that fit your style. If you want to continue with tiled floorings, be sure to check the grouts for moulds and retile as necessary. Doing so, however, will use up the majority of your budget. So, as much as possible, keep the tiles basic and simple.
If you want to try something else, here are other flooring options for your HDB:
Vinyl Flooring
In terms of value for money, vinyl flooring is perhaps the most affordable and durable option. Because of its PVC composite material, it can last anywhere from 10 to 15 years. Besides its durability, this has become a popular choice for homeowners because it's soft and comfortable to walk on.
Laminate Flooring
Similar to vinyl, laminate is relatively cheap and widely available, which makes it sought after. Generally, laminate floors are made with fibreboard, which can replicate marble or wood. Unlike vinyl, however, laminate floors are not flexible. So, they scratch and dent easily if not placed on an even base.
Cement Flooring
If you're going for a more industrial style home, cement flooring is the one for you. To make it more durable and water-resistant, specialists need to apply a protective coating. However, while this protective layer keeps everything intact, cement floors can still crack easily. This is because the material is porous. As such, damages are inevitable over time.
Hardwood Flooring
Hardwood flooring is another favourite among Singaporeans because it gives a home a sophisticated and timeless look that can last a long time. However, despite this, it can be expensive and moderately difficult to maintain.Like cement, hardwoods require a protective coating. If they're not sealed properly, they can attract termites and absorb liquids. When this happens, there will be major damage to the wood. So, it's important to observe proper care when one has hardwood installed at home.
Theme and Style
After finalising your flooring, the next step is to finalise your Maisonette's theme and style. This is the part where you can be creative and try out different styles. But if you require further assistance, you can hire an interior design company to show you the latest trends.
Right now, the most popular style for Maisonettes is modern minimalist. This style allows the home to achieve a clean and sleek look while being flexible enough for different decorative elements.
Clever and Creative Storage Ideas
As with many homes, storage plays an important role in maintaining its cleanliness and sleek appearance. Fortunately, with the ample space available in your Maisonette, you can opt for a more customised storage space that meets your needs exactly.
For instance, you can create a makeshift bookshelf using the space underneath the stairs. Alternatively, you can also use the available vertical space to hang and display your larger items like bikes. Be creative when designing storage spaces for your Maisonette.
Windows
Since most Maisonettes offer spectacular views, it's important to consider the window treatment when getting a BTO renovation package. The key is to create the perfect balance between privacy and openness.
On the one hand, you want to close off your large windows so onlookers can't see through. But, on the other hand, you want to be able to open it wide enough to let natural light in. So, a great solution is to install roller blinds.
Having a Maisonette offers incredible design opportunities for you to play around with. So, when designing it, be sure to personalise the space, choose ambient lighting, and add colours. To maintain the quality and look of your home, be sure to speak with your designer regarding maintenance.