Exploring Stylish Master Bedroom Ideas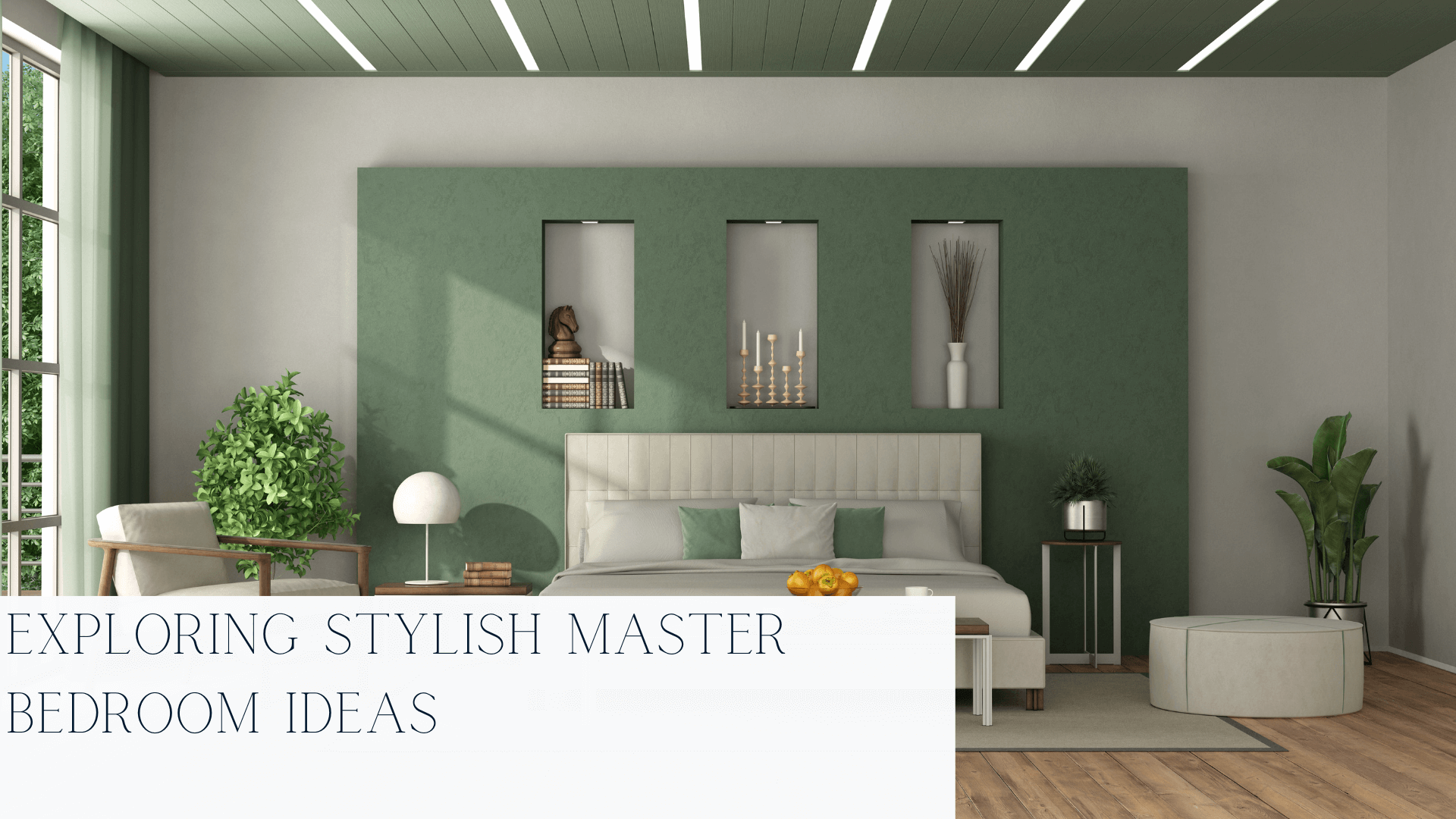 Even the most outgoing people need a place to be by themselves. It should be a haven of tranquillity, a personal place to curl up with a good book, zone out, or relax away from the world. Hence, it deserves a well-thought interior design that can transform your space into an aesthetic retreat. Here are ten ideas you can incorporate to master your favourite design style.
One-Colour Rule
You may want to pick one paint colour if you are overwhelmed with numerous design ideas. Decorating a monochromatic colour scheme can be the easiest decorating pallets to execute. But it can also be one of the most challenging things because a monochromatic space uses varying tints and shades of just a single colour. The misconception of this scheme is that some people use only one hue throughout the room without variation. For example, the room can be painted navy blue, sky blue, cadet blue, or royal blue. Yet, it is still monochromatic because all are variations of blue. You can also use white or other neutral colours to back your primary hue.
Patterned Wallpaper
Adding stylish wallpaper is an easy and on-trend way of taking your bedroom to the next level. In addition to making a space stand out, the right wallcovering can accentuate features and give the impression that the room is large. Use patterned wallpaper, like a Herringbone pattern, everywhere if you like it. It is also a clever way to mask a design dilemma, such as a steep roofline. You can use a single colour to unify the room or envelop it in visually busy wallpaper. When decorating with bold wallpaper, you can tone down the rest of the space by using one or two key colours. In addition, wallpapering the top half of a panelled wall can further add texture to your room.
Curtain Headboard
Most people consider a headboard an integral element of the bed, along with quality mattresses. It prevents your wall from being scuffed up and can save as a unique space filler on a blank wall. Have some fun with a DIY version by hanging a curtain headboard. By filling up your space using this unique headboard idea, your room will look more elegant in terms of decor and style. It also creates a focal point, drawing the attention of visitors.
Black & White Palette
Black & White interior design can give your home a lasting impression. The beauty of using this two-tone colour theme is that the palette is flexible. Depending on how you use it, it can look modern or classic. The black-and-white palette adds glamour to a space, creating a bold, dramatic effect. It is also great when used as a backdrop for other colours to pop.
Floating Shelf
Usually, the lack of space is a challenge in most homes. So shelving is an excellent choice if you are looking for the best way to make the most out of it. There is a wide variety to choose from in which every person's taste is accounted for. Furthermore, modern shelves generally offer a clean display regardless of style and shape. A floating shelf can be put in place of a nightstand to save crucial space in a small bedroom.
Petite Furniture
Working with slightly less space does not mean you have to compromise on style. Do not fret if you have a small bedroom space, and try to embrace petite furniture. A small bedside table would be a great option to help reduce clutter. Mirrors are also great for creating the illusion that a space is large. You can place them on a corner facing a window to reflect the outside world. You may also opt for a standalone tassel floor lamp to provide the room with dynamic lighting.
Tassel Trend
Fringe has been making its way back into interior design. And tassels are part of the fringe interior design. Old-fashioned furniture fringe used to seem grandmotherly because it could be seen as stuffy. Now it seems young, modern, glamorous. You may want to dress up a basic nightstand with tassel hardware to add an elegant touch to any bedroom. This fringe design can be a flexible accessory to the back entrance, down to the bed frame and drawers of the bedroom.
Built-in Bed
You may consider installing a built-in bed and storage for space efficiency. Building the bedroom with the closets is one of the most space-efficient bedroom ideas. You can utilise half of the room space for the bed and closets while the other half would be for furniture, nightstands, and other stuff. You can experiment with any theme you want for your bed. It would still be an ideal and stylish spot to store your belongings without them taking up too much space.
Sconce Lighting
Sconces can be used to fashion your lighting design level, providing flexibility with interior decor. Sconce lighting adds a classic look, especially when paired with antique furniture. But there are also contemporary sconce fixtures that fit perfectly in with modern design schemes. Sconce lighting is a great way to reduce your energy consumption. Wall sconces provide enough light without having to illuminate the entire space, consuming less energy overall. They are also minimally intrusive, as they are not compromising valuable floor and surface space.
Gallery Wall
A good gallery wall steals the spotlight, and instead of the bed, it has the potential to be the showstopper of any room it sits in. It reflects the room and your personal style, delicately combining various eclectic elements. To lay out a gallery wall perfectly, start by gathering the artwork or photographs on the floor to find the perfect arrangement. When you are satisfied with their positions, snap a photo of them. Trace each frame onto paper and produce cutouts. Test the cutouts on the wall before you hang them using a level and painter's tape. Your creativity in designing your gallery wall will uplift the mood of your room, giving it a unique personality.
Conclusion
Good design can promote a positive mood. Since the bedroom is where you retreat after a long day, the bedroom scheme should be something that you find comfortable and relaxing. Wake up to your preferred bedroom style by engaging an interior design company in Singapore. Style+Space offers interior design solutions and renovation packages for HDB resale flats, making them unique and more personalised spaces.