Boost Productivity with These Incredible Home Office Ideas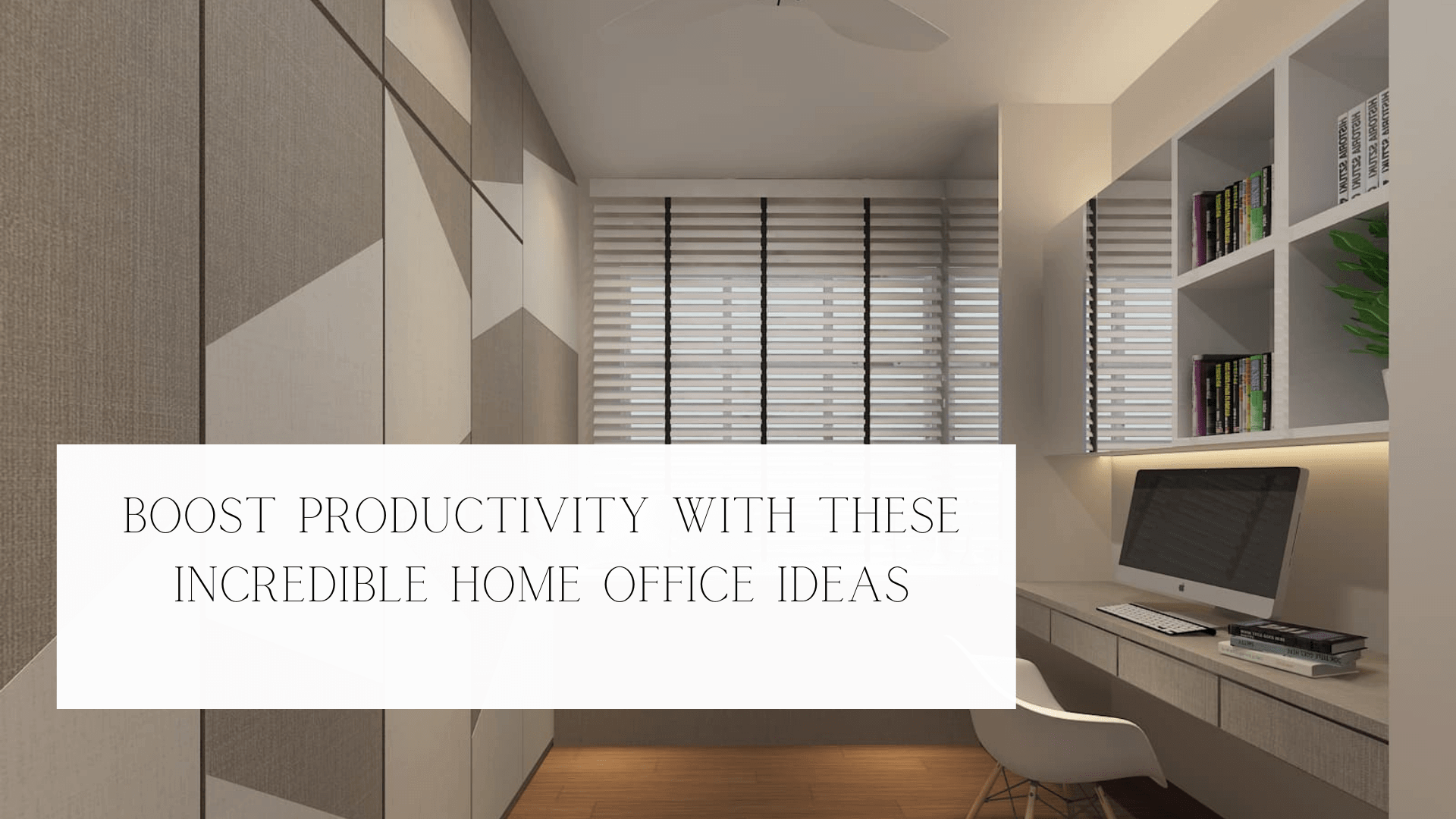 In this day and age where remote work is the new norm, Singaporeans are investing time and money to create a conducive home office where they can work productively.
Contrary to popular belief, creating a home office is not as simple as adding a desk in your room. With so many distractions around the house, achieving the ideal work setting in the comfort of your home involves a lot of meticulous planning. So, to help you get started, here are some practical tips you can try to incorporate into your interior design.
Install Adequate Lighting To Improve Concentration
The first tip is to install adequate lighting. According to studies, the ideal light output for concentration is 450 to 550 lumens. This gives you just enough brightness to carry out certain activities like reading, writing, and data analysing without straining your eyes.
In addition, the best type of lighting is an LED light with a cool hue like blue or white. Studies suggest that this type of lighting mimics daylight, which in turn helps keep your mind alert and focused. Because of this, you become more capable of accomplishing your tasks with efficiency.
Before installing the proper lighting, however, coordinate with your condo interior designer to plot the light fixtures most strategically.
Invest In Customisable Standing Desks To Keep Your Body Healthy
Besides lighting, you also need to consider the desk you're working on. Opting for a standing desk rather than a study table can keep your body healthy.
Because working from home requires spending hours on end sitting on a chair, you need to find creative ways to exercise your muscles. A standing desk will do just that. Because of its height-adjustable setting, you can bring it up or down to keep your muscles engaged. This can help reduce the possibility of developing neck or back pain as you continue your work. What's more, it can also help you lower blood sugar levels and lose weight.
Although standing desks are available in the market, you can ask your Singapore interior design firm to customise a desk that suits your work requirements.
Avoid Bulky Fixtures To Create A Flexible Working Space
While built-in tables, monitors, and seating areas might seem cool at first, they're not the most practical options in a home office setting. Sooner or later, you will find yourself wanting to relocate or upgrade your workstation to meet your evolving style. In such cases, you might have a more difficult time doing so with built-in fixtures.
Hence, you need to opt for modular or mobile furniture to create a more flexible environment. So, whenever the need arises, you can easily reconfigure your office in any way you want.
As a pro tip, make sure to invest in timeless pieces that match any style. This will help you save up on buying new items every time you want to change things up.
Install Interactive Walls To Maximise Productivity
It's true that most work activities happen online. Your computer can be a one-stop destination where you can multitask. But there comes a time when you want to let your ideas flow freely. Whether it's illustrating a picture, drawing a graph, or brainstorming concepts, sometimes, what you need is an outlet. This is where interactive walls come in handy.
You can integrate interactive walls in your home office in several ways, including:
Giant whiteboard: If you need to brainstorm, write, or draw as many ideas as possible, you can transform one wall into a full-sized whiteboard using glass panels.
Cork wall: On the other hand, if you want to get the bigger picture of a particular project, you can pin notes, drawings, graphs, etc., on your cork wall.
Invite Fresh Air With Plants To Inspire Creativity
To complete your office space, you'll need to bring in as much nature as possible. This will provide a good atmosphere to inspire creativity. For instance, you can bring real plants into your office to add a sense of nature indoors.
As good as plants will look in your workstation, they can also give you that extra motivation to complete your tasks. Greeneries like the snake plant, peace lily, weeping fig, and rubber plant are good additions to your office. They can remove the harmful chemical vapours in the air to help increase creativity, productivity, and concentration. In addition, these plants also offer physical benefits like lower stress levels and reduced blood pressure.
Conclusion
These ideas should jumpstart your renovation project to transform your work office effectively. For more design ideas, get in touch with the best interior designer in Singapore to help you enhance your productivity.