8 Cost-Saving Renovation Tips for New and Resale HDB Flats in Singapore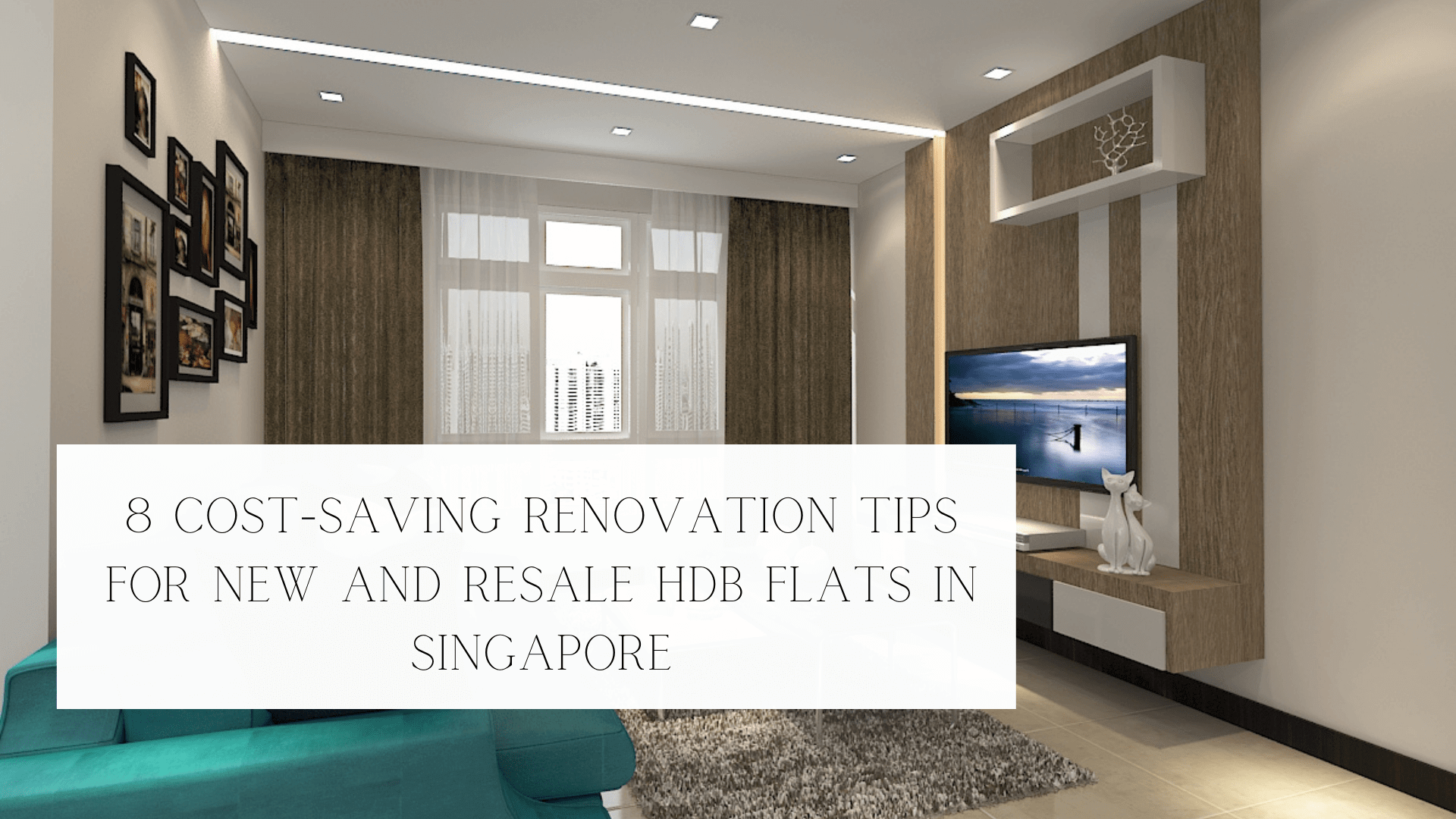 Buying an HDB flat is one of the biggest milestones in your life, but it doesn't end there. After you purchase your new home, you also have to consider interior renovations.
Renovating your home is the key step to transforming it into your personal sanctuary. However, the cost of renovation in Singapore can be quite expensive. Whether you're moving into an HDB BTO, Resale HDB, or condo, the renovation costs can range from S$20,000 to S$150,000. Fortunately, there are ways you can efficiently reduce costs while still getting the results you want for your flat.
So if you want to save thousands of dollars, here are some cost-saving renovation ideas you can try.
Go for Timeless and Budget-friendly Design Themes
One of the biggest cost indicators in renovation is the overall design theme. This is because the theme of your home will anchor all the elements needed for renovation. So, if you choose an extravagant and overly complicated theme, you can expect the renovation price to be high.
However, choosing timeless themes and minimalist interiors like the popular Scandinavian style or the Japanese Zen aesthetic can help you reduce your costs without compromising the beauty of your home.
In fact, choosing a minimalist design entails minimal decorations and, therefore, minimal clutter. That said, focusing on the essentials can give your home a simple, clean, and sleek look.
Reduce Built-in Furniture
In terms of decoration and storage options, try to avoid installing built-in furniture in your home. Since it involves custom carpentry, you can expect an increase in total cost when you opt for built-in furniture. Instead, try purchasing loose furniture that can easily be moved around.
Not only does loose furniture can help you save up to S$10,000, but it also gives you more flexibility to style your home.
Look for Cheaper Substitutes
If you want to achieve the luxe aesthetic but are not willing to splurge on expensive materials like real marble and gold, there are man-made alternatives that can help you achieve luxury for a fraction of the cost.
For example, you can mimic the look of marble, stone, and wood with compact laminates. Otherwise, you can opt for sintered surfaces made with porcelain, glass, and quartz to achieve the look of natural stones. Depending on the finish you want, there are cheaper alternatives available in the market.
What's more, these substitutes are more durable and require less maintenance, making them a practical and long-term investment.
Reuse and Refresh Materials when Possible
Another helpful tip to reduce the cost of renovation is to repurpose the materials you already have at home. Instead of buying brand new items to incorporate at home, why not enhance the look of the pre-loved furniture in resale HDBs?
A simple project like repainting old cabinets or replacing drawer handles can instantly elevate the look of the furniture without breaking the bank.
Overlay the Flooring
Overlaying existing floors in the HDB flat with tile or vinyl flooring is also a great idea to save on renovation costs and time. However, before you do this, your interior designer must inspect the condition of the existing flooring. You can only overlay if there are no broken tiles, large gaps between pieces, and uneven surfaces. If any of these signs are present, overlaying may not be possible. In which case, you need to find other alternatives.
Don't Change the Original Layout
Although tearing up the walls to create a larger living space or bridge two rooms is a trendy option, it's also quite expensive. Depending on the number and thickness of the walls, you can expect to spend an additional S$1,500 on hacking works. To avoid incurring this additional cost, stick to your HDB's original layout.
Differentiate your Needs and Wants
In every decision-making process, it's important to differentiate between your needs and your wants, and this remains true with interior renovations.
It's so easy to get carried away by the latest home appliances and trendy features that add to your home's aesthetic appeal, but you have to ask yourself: are they necessary? Can you spend the money on more important things? When you focus on the essentials, you can save on renovation costs.
Find an HDB Interior Renovation Package
The last cost-saving renovation tip is to look for a comprehensive yet affordable HDB interior design package from your partner interior designer in Singapore.
Getting renovation packages is a great way to get all the services you need hassle-free. This means you don't have to spend hours looking for reliable contractors and spend thousands of dollars hiring different companies. As a result, you save up on significant time and money. So, be sure to inquire about renovation packages when you contact an interior design firm.