7 Trendy Lighting Ideas To Illuminate Your Living Room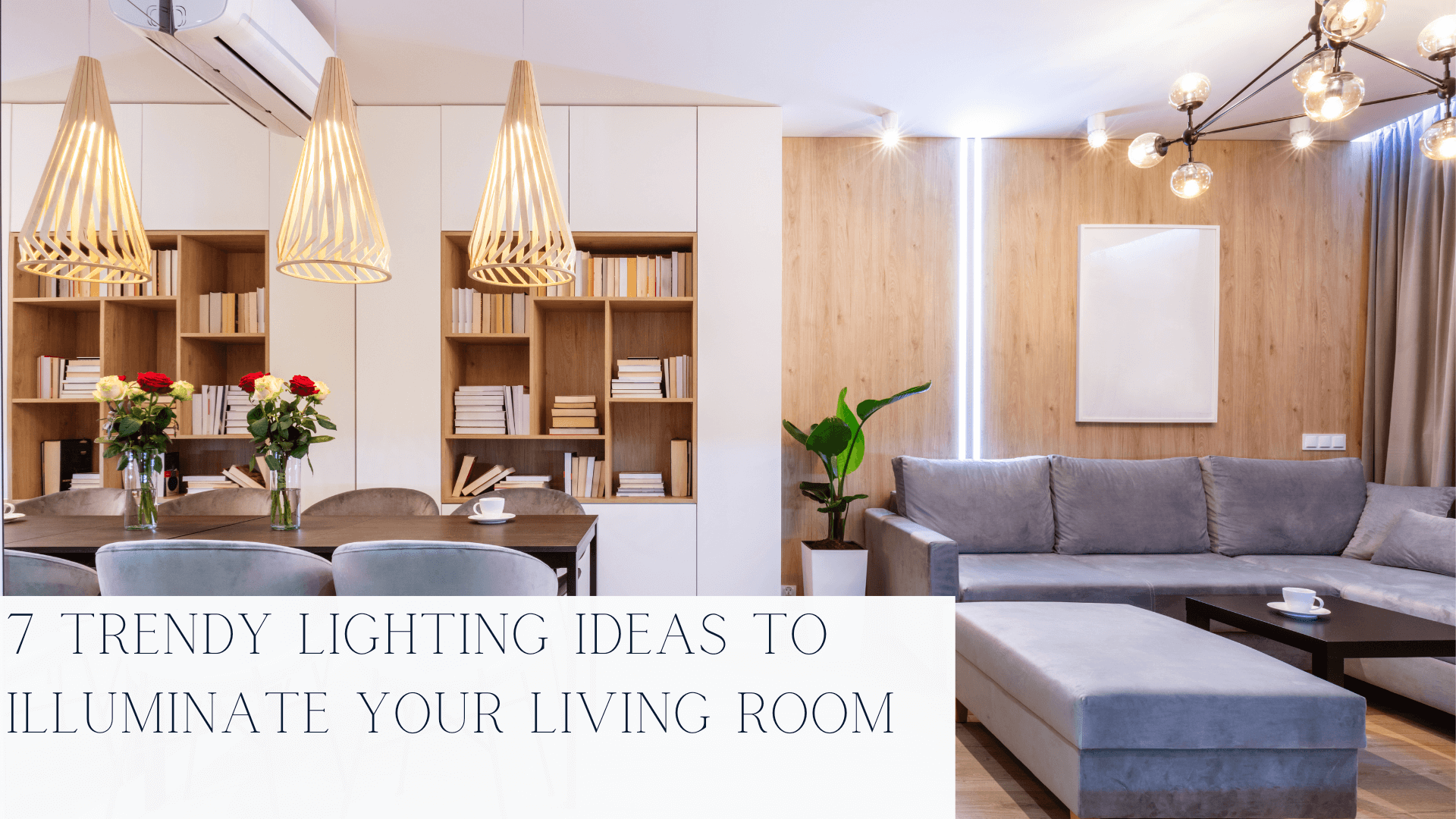 The use of proper lighting is the main aspect of interior design. It can create an atmosphere much more than furniture or any accessory and change the overall mood of a room. The correct lighting setup can make a room feel more spacious.
When designing a space, it is important to emphasise and define the experience you want to create. Light and shade are used not only to make a room comfortable but also atmospheric. Dim and indirect lighting makes a more intimate and relaxing space. In contrast, white and direct lighting activates our brains, allowing us to see smaller details.
7 Trendy Lighting Ideas
Understanding the trick to good lighting management is the key to create an appealing and functional interior. Lighting elements like lamps, pendants, and fans should complement the space's style and decór.
Here are seven trendy lighting ideas to help you achieve the perfect balance between style, comfort, and practicality.
The Simpler, The Better
Your ceiling lighting does not have to be a showstopper. Keeping your living room simple and stylish is what it often needs. Modern living rooms tend to focus on functionality and minimalism. Try muted and neutral colour palettes for decórs, white for walls and a black lamp shade around a pendant light. This offers a grounding antidote to the colourful and artistic scheme across the rest of the room.
The Organic Can Stay
Natural materials can have their huge moment in lighting. You can reconnect with nature directly from your home with natural fibre lamp shades and hanging rustic pendant lights. Materials made from rattan, terracotta, and wood are surprisingly versatile. They can work in traditional, modern, and bohemian rooms. Sticking to earthy tones and neutral schemes creates a calming atmosphere. Finally, complement the room with house plants, wooden furniture, and textured furnishing.
Overhead Pendant Supremacy
You might not want to miss the ceiling light idea of hanging light so low that it sits right in your eye-line. Hanging a low pendant over your living room helps create a dedicated glow around the most comfortable area of the room. You can have the light placed over a coffee table to stop worrying about people bumping their heads onto it. Pendant lights are great for creating a focal point to zone the room. A metal lampshade can also add an industrial and modern touch to a traditional space.
Contemporary Meets History
Traditional lighting fixtures focus on elaborate design, look, and construction, whereas modern lighting fixtures focus on simple and clean looks. These two may not need to go their own separate ways. Modern pendants can be redesigned by using authentic materials and artisanal techniques to create something original. Classic concepts can also be reissued through modern materials.
Design Surprise For Excitement
Like the previous idea above, light is a good way to throw surprises, to merge modern with traditional. You can put an industrial lamp or a graphic mid-century form in a traditional stucco setting or antique chandeliers in a stark, modern plan. This injects excitement and freshens the mind of the spectator.
Subtle Lights Bring Character
Ambient light naturally makes a room feel warmer, more calming, and more welcoming. The shadows formed through ambient light are also wonderful to the eyes.
You can combine practical ceiling spotlights and wall sconces to create ample background illumination for the room, adding a touch of character.
Floor lamps can also be installed, bringing height, balance, and visual warmth to the ambient lighting show.
Finally, LED strips are a great ambient light option. They can be installed on your baseboard, under toe kicks, and on the risers on your stairs.
Before you get excited, make sure to consider the cost of new lighting installation in your plans.
Impact of Texture
The texture is the way the light plays on an object's surface. Texture takes on many forms – from ultra shiny and glossy laminate surfaces to roughly hewn surfaces of stone and timber. Choose an impactful, textural ceiling light design when planning lighting in the living room.
Rough textures, such as Maltese stone, raw timber, and coarsely woven fabrics will absorb and reflect light in a haphazard and interesting manner. They can reduce the light's impact, making the surface seem more subtle. These textures create a calm and relaxed atmosphere, like muted colours and quiet patterns.
Shiny textures, like metals, glass, ceramic tiles, and marble, bounce light and make the surface colour appear brighter.
The texture is a game changer. It adds immediate visual interest, contrast, and drama to any interior. Combining contrasting textured elements can be the key to making a space truly appealing and memorable.
Deciding On A Ceiling Light
The ceiling light is the most common light source in the living room. Choosing the right fit for your space is hugely personal, which can either make or break a room scheme.
Consider the size of the room. Oversized fittings are trendy and appealing, but they do not work well with low ceilings and small rooms. Ceiling lights with a lot of negative space, like Sputnik chandeliers, work well with smaller rooms. If you have high ceilings, you can consider having larger, more statement pieces, like a chandelier or a cluster of pendants.
Conclusion
Style+Space is a renowned interior design company in Singapore, offering HDB interior design packages. Regardless of the housing unit's or space's size, we can reinvent its interior lighting, exquisitely reflecting your style.