7 Interior Design Styles You Can Recreate at Home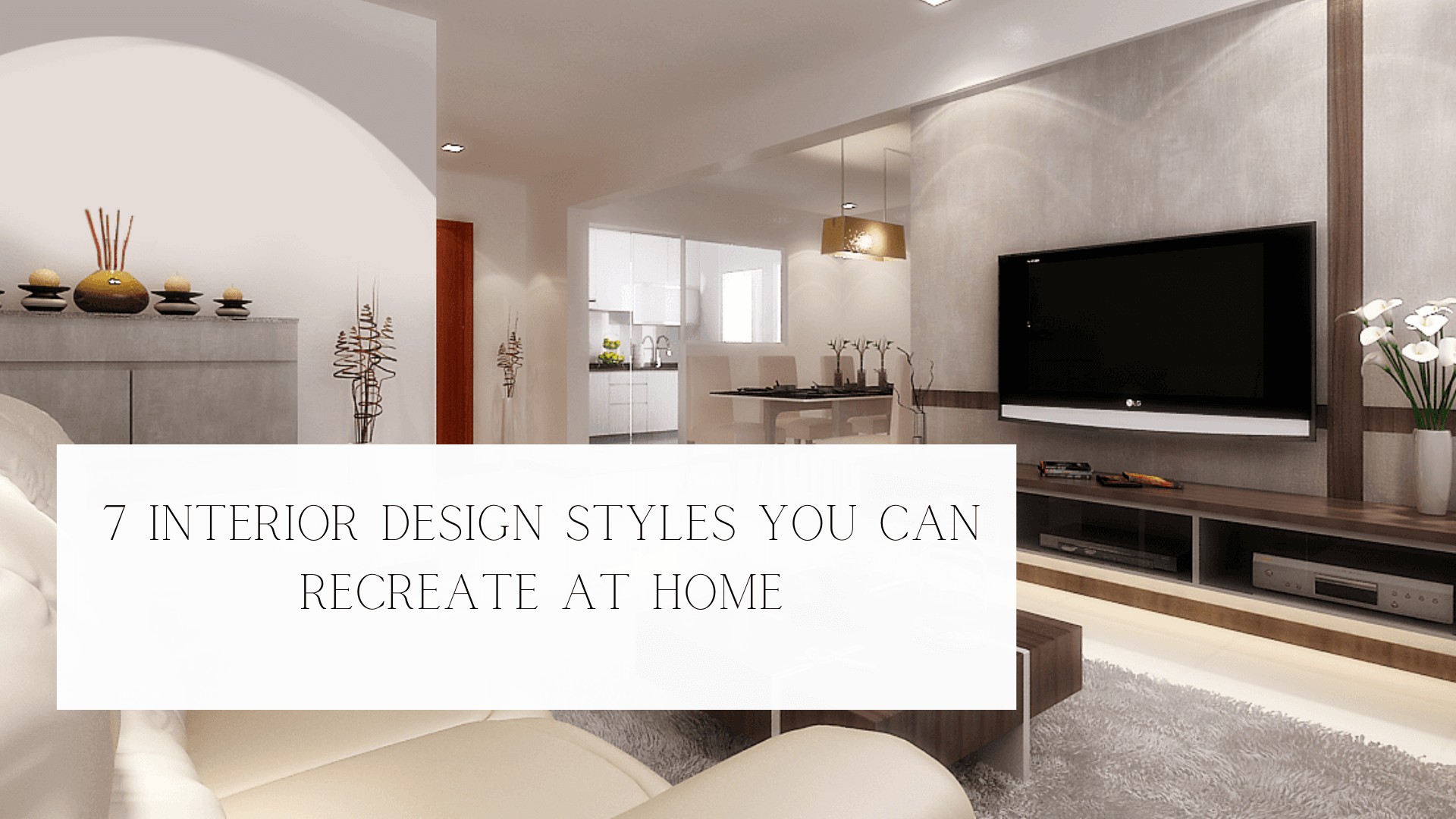 Whether you're moving into a new home or thinking of renovating your own, you need to consider the element of interior design. This is what will transform your house into the home of your dreams. Through interior design, you can elevate your homes into chic spaces while incorporating your unique personal touches.
In this article, you will find seven interior design styles that you can recreate in your HDB flats or condo units to create a more updated and aesthetically pleasing home.
1. Traditional
The old-school aesthetic greatly influences the traditional design. This design's key elements include intricate wood carvings, floral-patterned upholstery, expensive textiles, antique china, and wallpapers. This design is very regal, opulent, and classic.
Most people tend to blend certain traditional pieces into their modern homes to create both contrast and balance in the space. By combining old and new elements, you create high contrast. By strategically allocating these elements within the house and making them work, you create balance.
The traditional design is the perfect way to pay homage to Singapore's rich, worldly culture while staying grounded in modern times.
2. Vintage
Another design that alludes to old-world glamour is the vintage interior design. As opposed to traditional that's inspired by Asian culture, vintage is influenced by the Western aesthetic in the 1940s. Think of a charming English country house or old-school Hollywood glam. That's what the vintage style is all about. It incorporates a lot of elegant home decor, soft colours, and luxurious fabrics in interior design.
Moreover, vintage makes use of mahogany floors, faux fur carpets, velvet sofas, and chandeliers. The walls are usually painted with neutral or monochromatic colours to make the furniture stand out. Complete the look by hanging art pieces on your walls.
3. Eclectic
Eclectic is a very playful design that combines multiple textures, colours, and styles. It's a mishmash of different elements in the hopes of creating a cohesive space. You can use wood, brick, metal, leather, and glass to create an eclectic home. However, the key is to know when to stop. It's so easy to go overboard with the decor. But the thing is, with this design, there's a fine line between chaos and creativity. When done right, you can create a home that's quaint and cosy yet imaginative, fun, and unique.
4. Industrial
Industrial design is inspired by the manufacturing age and puts its focus on practicality and functionality. The distinctive characteristic of this design is the raw and unfinished look that is achieved by using rough surfaces and industrial materials like cement, stainless steel, bricks, and wood. One of the key features of this style is the exposed pipes hanging on the ceiling and running along the walls.
5. Retro
Another design inspired by the decades. This time, you look at the 1950s to 1970s for inspiration: think vibrant colours, psychedelic patterns, groovy designs. This design style gained popularity in Singapore as it brings back feelings of nostalgia. Some of the home decor you can infuse in your flats to achieve this design are acrylic coffee tables, terrazzo flooring, and gold furniture. The retro style is very funky, quirky, and bold, perfect for free-spirited individuals.
6. Modern-Contemporary
The modern-contemporary design is defined by its clean, neutral, and timeless interiors that use polished metal, wood, and leather while incorporating elements that are influenced by popular culture. Unlike other designs that are influenced by the past, modern-contemporary is an ever-evolving design. It's changing as new trends emerge and new styles are discovered.
7. Natural
The natural design takes inspiration from mother nature. It makes use of earthy, warm colours like terra cotta, beiges, and browns to give your home a sense of tranquillity. Additionally, it infuses organic and natural elements like woods and greeneries to transform your home into an oasis. Overall, natural design is a great style to recreate if you want to transform your flat or condo into a sanctuary of peace and relaxation.
Conclusion
Get creative inspiration from these incredible, fail-proof design styles to get started on revamping your space. With the help of an interior designer, you can recreate any style while incorporating your unique personality into your home.