7 Interior Design Ideas Singaporeans Love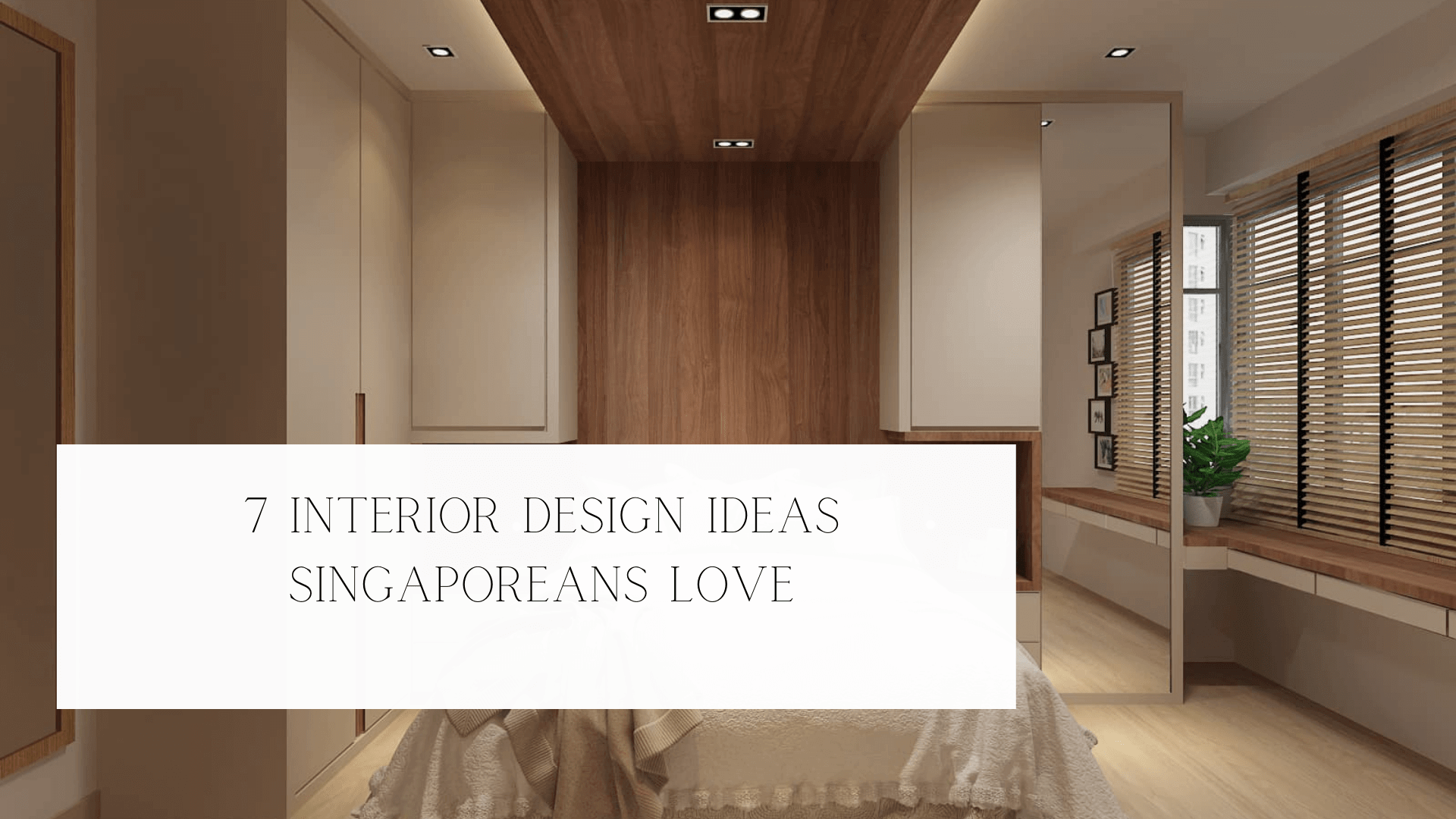 Interior design has evolved throughout the years. But despite all the changes happening in the industry, a few have stood the test of time as some of Singaporeans' favourite trends. Take a look at seven of the design ideas that will remain prevalent in Singaporeans' homes even in the future.
Natural Elements
Natural elements have always been a favourite design component among locals. Not only are there several options to choose from, but they also blend perfectly with different styles.
The way people integrate nature into their homes depends on their personal preferences. While some people want to introduce elements like stone and wood, others may prefer to have fabrics and textiles as their main highlight. In some cases, it can be a combination of all types of natural materials.
Besides these, another popular item many homeowners have is greenery. Indoor plants have become a fashionable item at home as it gives Singaporeans a sense of the outdoors. In addition, science has shown that being surrounded by nature has incredible benefits to health and the environment. Because of this, natural elements have become a popular trend among residents.
White and Wood Pairing
As it's evident that natural elements like wood are a must-have in a home, it's only right to find ways to integrate them seamlessly into the space.
One solution is to pair wood with white. If you'll notice, this pairing is mostly associated with the Japandi minimalism or Scandinavian design style. Both of which have been a crowd favourite in Singapore for many years.
Everyone wants to achieve a clean and sleek home with a white palette, but they don't want it to look bare. By adding wood, they can infuse texture and colour into the space, making the home look stylish yet modern. This pairing is also neutral enough that it can complement any design style.
Custom Built-in Storage With Pocket Doors
Singaporeans have always loved custom built-ins because it enables them to maximise the available space. However, an interior design company can take it one step further by installing pocket doors.
Pocket doors are highly functional as they take up less space than swinging doors and offer more room to access stored items. They're also quite stylish as they add a modern flair to your home. If you want to build your custom cabinets with materials other than wood, you can opt for glass for high visibility or rattan for added ventilation.
Globalised Decorations
Another well-loved design trend among locals is the integration of globalised decorations. Because Singapore is such a diverse and eclectic country, the residents are exposed to many different cultures, from Chinese to Malay and Indian influences.
On top of that, the world is interconnected, so Singaporeans have access to cultural items from Europe, Morocco, the Middle East, and Brazil, among other countries. That said, when you visit Singaporean homes, don't be surprised to find international influences such as the colourful textured tiles from Morocco or the marble finish from Europe.
Infusing these cultural touches adds character to the home and contributes to a diverse and worldly aesthetic.
Open Floor Concept
The open concept has become a popular 4 room resale renovation option because it creates more space, especially for smaller HDB types. In addition, the open concept prevents the HDB apartment from looking cluttered and cramped.
By visually combining different areas of the flat, like the kitchen, dining room, and living area, interior design services Singapore promotes a more spacious atmosphere to allow more movement while creating harmony in the home.
Hacked Kitchen Walls
To achieve the open concept, homeowners need to hack thick walls that separate different rooms. But among the different areas in the house, hacking is mostly done in the kitchen and dining area.
An open kitchen concept that is all the rage these days. This is because the kitchen is where they spend most of their time cooking and entertaining guests. So, by hacking the kitchen walls, they can add more space to cook and entertain more conveniently and hassle-free.
Large Mirrors
Because space is limited in many HDB apartments, Singaporeans constantly try different design ideas to make it seem bigger. Apart from the open space concept, they have also tried incorporating large mirrors into the space.
Placing large mirrors at the corner can create the illusion of space by reflecting the room. What's more, mirrors can effectively brighten the space by bouncing light against the walls.
With these, it's clear that Singaporeans love design ideas that are practical and stylish. So if you want to transform your home by incorporating any of these trends, Style + Space Interior Design is offering an HDB renovation package.
Get top-notch services when you work with Style + Space Interior Design.