5 Kitchen Renovation Styles to Try for your HDB Flat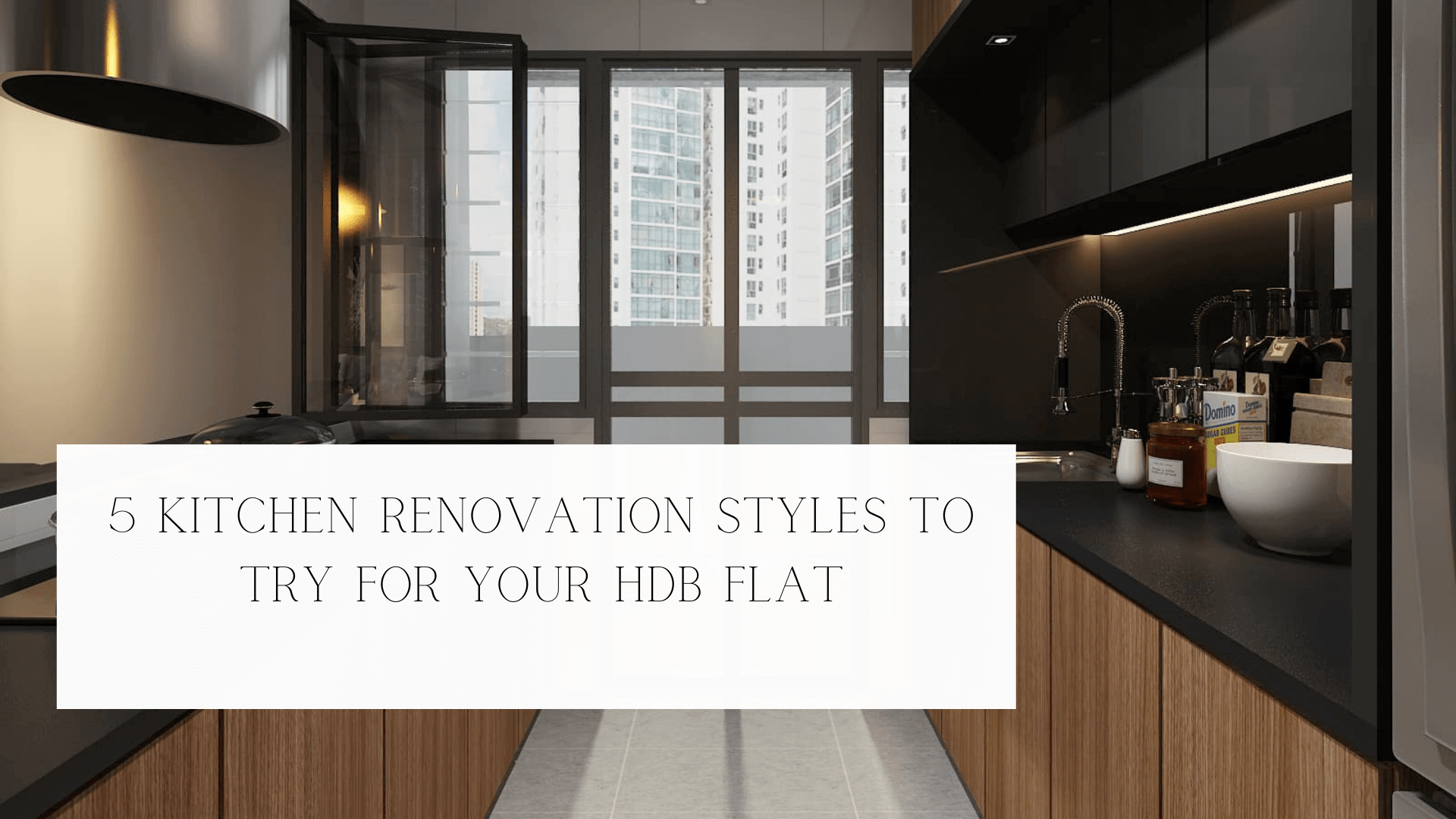 With COVID-19, more people are eating and cooking at home. This has piqued the interest of many homeowners to update their kitchens. With the emergence of improved and stylish home appliances, people want their kitchens to be fused with functionality, efficiency, and aesthetics.
If you're exploring the idea of renovating your kitchen space, here are five exciting kitchen styles to get the inspiration.
Scandinavian
The first design style is Scandanavian, which embodies a minimalist approach. It uses neutral colours, bright whites, and other natural elements. Over the years, it has become one of Singaporean's favourite design styles, not just for the kitchen but for the rest of their HDB flat.
To achieve the Scandanavian style, a Singapore interior design firm will focus on clean lines, functionality, and a less-is-more philosophy. Overall, the goal is to create a clean, practical, and comfortable space that exudes a relaxing ambience.
It's a sleek, simple, and straightforward design, which makes it attractive to Singaporeans.
Organic and Natural
Similarly, the organic and natural design style highlights simplicity and clean lines. The difference, however, is its use of earthy colours and luxurious textures. The organic and natural style elegantly embraces the beauty of nature.
You can recreate this design by incorporating elements like natural-finish vinyl flooring, hanging rattan pendant lights, and terrazzo countertops. To complete the look, you can also infuse wooden furniture into your HDB resale renovation plans.
Monotone
If you're looking for a more sophisticated, classic, and timeless kitchen design, perhaps a monotone style suits you better. This trend is all about using one colour in different tonal hues.
The most popular colour for this style is white on white because it makes the room look brighter and more spacious. However, there are more colour options you can try, such as black and blue. The darker tones are a bolder option, but they bring out the elegance and modernity in the room. Pair the darker colour with marble textures and brass light fixtures to complete the look.
Eclectic
If you have a playful and adventurous personality, perhaps an eclectic kitchen is the style for you. It utilizes unique objects and diverse colours and textures.
As opposed to the previous three designs, an eclectic style has a more maximalist approach. However, there is a fine line between stylish and cluttered when it comes to recreating this trend. Contrary to popular belief, an eclectic style doesn't advocate for an unplanned approach.
The goal is to create balance with the space. For example, if you plan to place bold and colourful props on display, you can choose neutral wall colours to balance the eccentricity and highlight these decorative elements.
To avoid overdoing it and creating a mess, you need to plan and collaborate with the best interior designer Singapore has to offer.
Rustic
Finally, the rustic design creates a cosy and homey atmosphere. It's laid-back and nostalgic with a modern twist.
Although most people associate the rustic design with old-fashioned, you can modernize this look by incorporating darker wall colours and whitewashed wood. Additionally, you can replace your sinks and faucets with more upgraded fixtures to create contrast with the overall rustic setting.
Must-Haves in Kitchen Renovation
These design styles give you an overarching idea of what you want your kitchen to look like. Then, when you've finalized the style that you want, you can move to the more minute details. To complete your kitchen interior design, you need to consider the elements to incorporate, such as:
Multi-purpose cookware
Since one of the main issues in every HDB kitchen is the space, you can save on storage by investing in multi-purpose tools. This means buying and storing only one product for multiple usages. For example, you can opt for an all-in-one pan or purchase multi-use appliances for your cooking needs.
Touchless tech
Another important factor to consider is technology. Since the goal is to create a convenient and comfortable space, infusing technology may help. Additionally, since proper hygiene and cleanliness are essential in every kitchen space, investing in touchless techs like motion-sensor trash cans and faucets can lessen the risk of passing bacteria on high-touch surfaces.
Sustainable supplies
Lastly, people have become more interested in sustainable products, from dish soaps to reusable containers. Besides helping save the environment, sustainable products can help you save on costs because they are durable and long-lasting.
Book an Interior Designer for your Kitchen Renovation
Hopefully, these ideas can help you get started on your kitchen renovation plans. Be sure to book an expert interior designer in Singapore to ensure that you achieve your dream kitchen design.
Style + Space offers kitchen renovation packages with comprehensive services and affordable prices. Create a comfortable, functional, and stylish kitchen when you partner with Style + Space.