5 Fun and Quirky Design Ideas for Your Kid's Room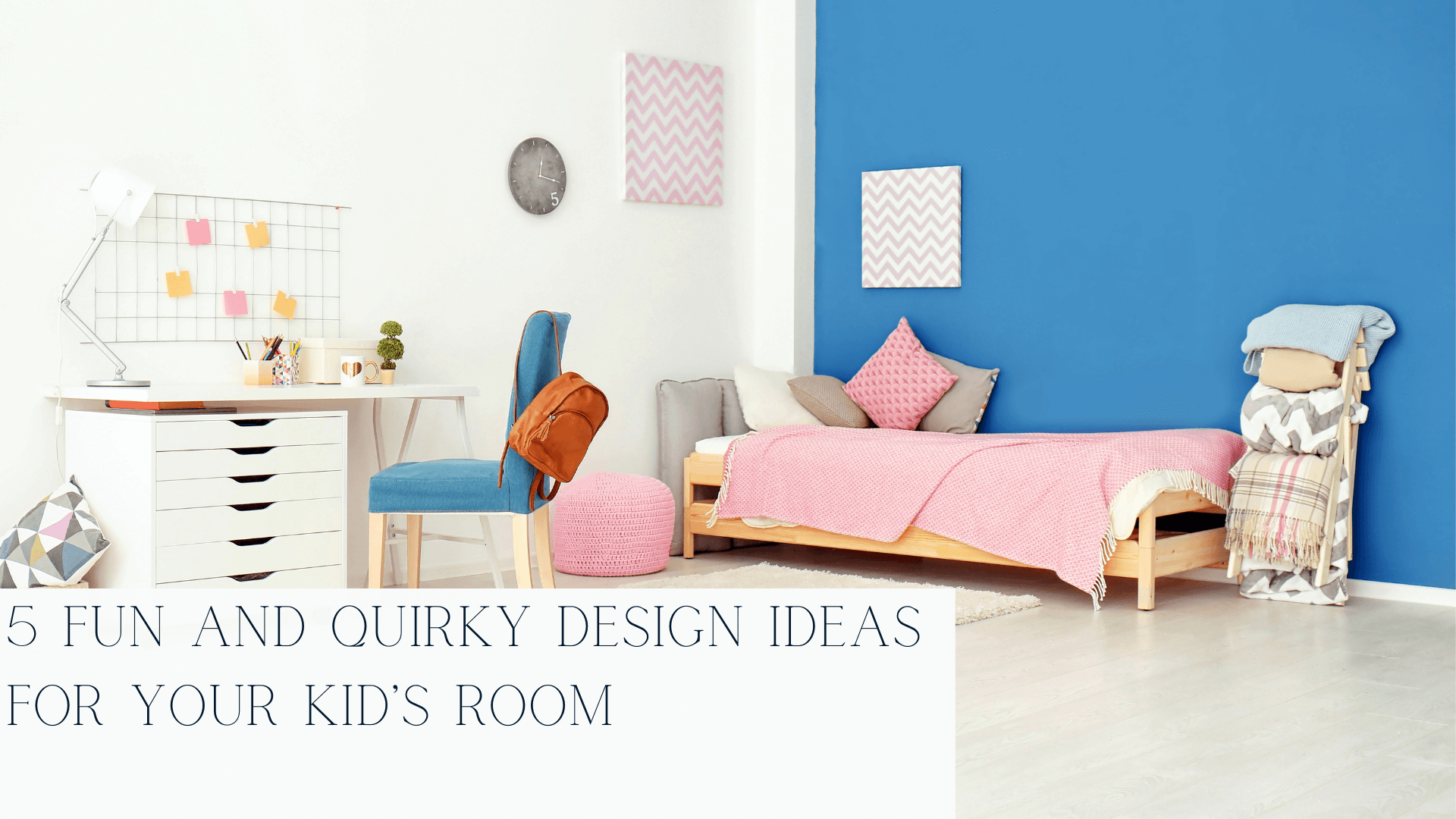 A kid's room should be fun and exciting. But more than that, it should also inspire creativity and spark joy. So when designing your child's bedroom, it's essential to keep these in mind and make it as playful and quirky as possible. Here are some ideas you can try to improve your kid's room.
Add a Doodle Wall
Every child loves drawing and colouring on any clear surface, whether a piece of paper or a blank wall. But the problem is, you don't want them to dirty your pristine, white walls. So, a great solution is to dedicate a doodle section where they can freely express themselves.
To achieve this, there are several options you can try:
Chalkboard paint
Using a coat of chalkboard paint is one of the most popular ways to add a doodle wall to your child's room. It creates a flat surface that your children can draw on with a chalk stick without leaving any permanent marks. In addition, should they go beyond the designated area, chalk is easier to erase than a marker, so it's faster and less hassle to clean.
Adhesive vinylOpting for adhesive vinyl must be your go-to if you want something more temporary than a painted doodle wall. Buy a large whiteboard or vinyl board in office supply stores and stick it on your kid's wall. Then, if they grow out of their doodling phase, you can peel off the board, leaving only minimal damage on your walls.
Wall-mounted easels
Unlike the first two options, this one accentuates your child's art in a long-term manner by designating the wall for some permanent artwork they made. Additionally, unlike the chalkboard paint and the adhesive vinyl, your kids have more versatility with this option. Since the main canvas is butcher paper, your kids can use chalk, markers, crayons, or pencils to unleash their inner artistry.
Display a Gallery Wall
Now that your kids love making all types of art, the next step is to put them on display. Choose an empty wall, such as the one above their bed or desk, and create a gallery wall. Seeing their artworks displayed will inspire them to make more pieces or improve their skills.
Install a Bunk Bed
When your little ones aren't so little anymore, they'll need their own beds. Bunk beds are the perfect transition for your kiddos because they are an all-purpose utility. It has under-bed storage drawers that can house all books, pencils, bags, shoes, dolls, puzzles, and even board games.
Moreover, the way they are made is designed to induce the kids' interactive desires to play and climb up the bed.
If you're worried about safety, the best tip is to choose a design that offers more comprehensive steps and features a safety ledge. Then, consult with your chosen interior design company if you need further assistance selecting the best bunk bed for your kids.
Have a Book Nook
Newborns and toddlers learn new things every day. So, aside from making a fun and exciting room where they can play and express themselves, you should also make it as educational as possible. It is where having a book nook comes in handy.
Dedicate a corner of your kid's room where you can install shelves and display their favourite books. Complete the section with a small table, chairs, and proper lighting. Doing so will give them an optimal space to read with utmost comfort.
If you want to take it a step further, you can even add bean bags and coloured mats to make them feel more excited about reading.
Follow a Fun Theme
These ideas might seem all over the place at first glance, but if you follow a fun and cohesive theme, you can find ways to integrate these ideas seamlessly and cohesively.
When choosing a theme, there are several approaches you can take. For instance, you can base the theme on a specific colour scheme, giving you more flexibility in design. Alternatively, you can base it on their interests.
Whatever you decide to do, be sure to seek professional assistance from interior designers in Singapore. They can help you create a theme that suits you and your children's tastes.
Create a Stylish Kids' Room With These Tips
As much as you want your children to play around and express themselves in their personal space, you also have to remember that their room is part of your flat and must follow the same style.
If you need help in this regard, find an interior designer in Singapore to help you design your children's bedroom in a way that blends seamlessly with the rest of the flat.
Style + Space Interior Design offers an HDB resale renovation package and a resale condo renovation package to help you transform your kid's room into a stylish and versatile space. We also have a renovation package for a 5 room resale flat. For more information on how we can help you, feel free to contact our experts today.