Transform Your Master Bedroom into a 5-Star Luxury Hotel Suite in 6 Steps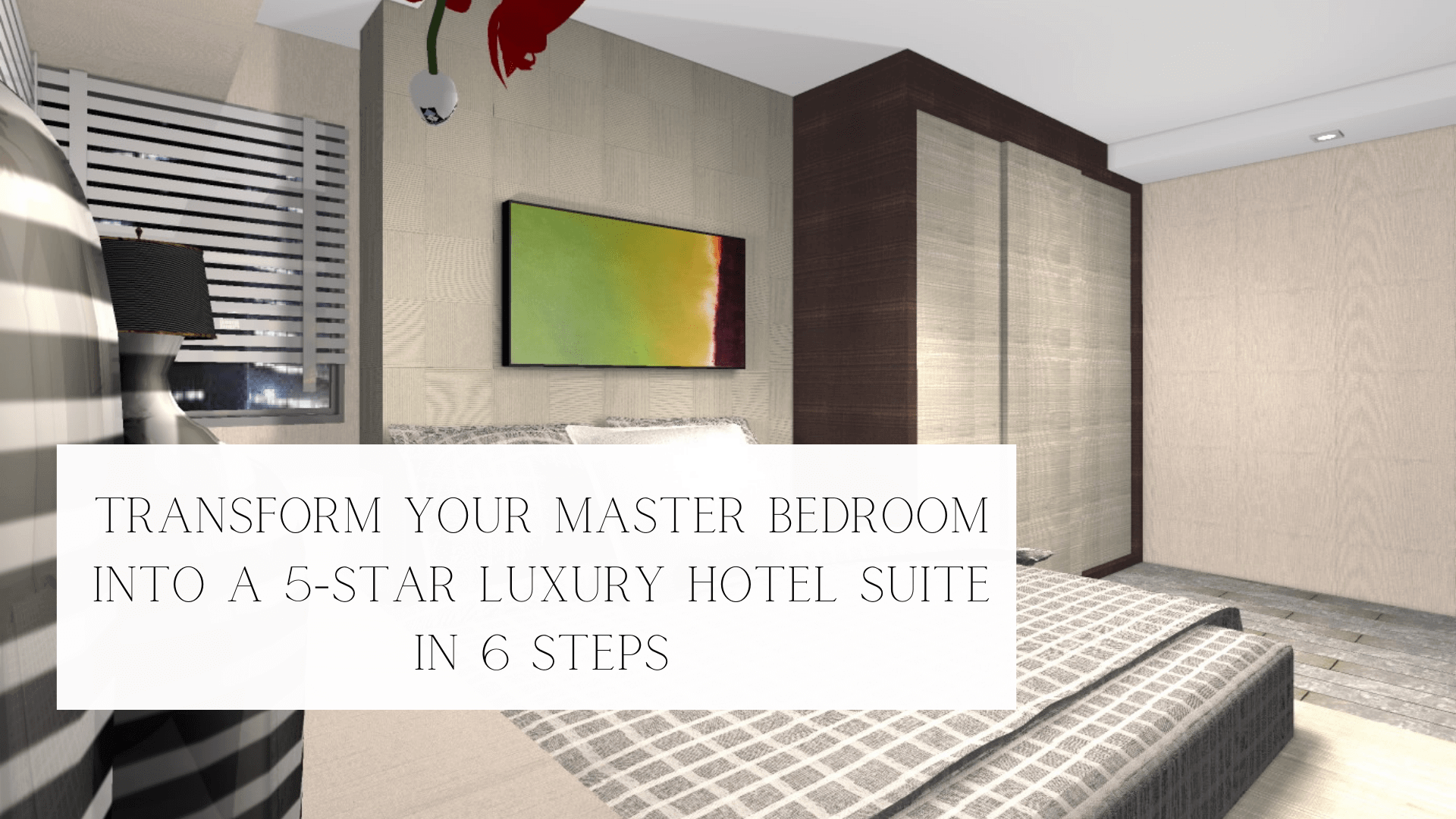 While it's not practical to pack your bags and book a luxury suite at the moment, there's no reason why you can't recreate the hotel experience at home. In fact, it's a lot simpler than you might think.
According to interior design company Singapore, all it takes is six steps to transform your master bedroom into the hotel suite of your dreams.
STEP 1: Study the Space
The first step is to examine your space. Having a floor layout with the correct measurements can help you plot your furniture better. It also prevents you from making any major mistakes throughout the whole process.
When studying the space and creating a detailed plan, you need to consider the room's natural flow, corners, and light source. This will be your guide when placing the room decor.
Keep in mind that most hotel suites are designed with a symmetrical layout as it gives the room a more balanced atmosphere to stimulate calm and relaxation. To recreate the symmetry, you can place the biggest furniture in the centre and ensure that you have two of everything placed on either side to achieve balance. Once the bed's been plotted, you can add personal touches to different areas of the room to make it feel unique and custom.
STEP 2: Keep It Seamless
When designing your space, you need to ensure that the flow is clear and seamless. While you can add personal touches, you can't go overboard. Hotel rooms are clean and tidy. It won't work if you have your personal items scattered around the room randomly.
To achieve a clutter-free and seamless room, try to incorporate concealed designs to hide the mess without causing a visual disruption. For instance, you can have a mirrored sliding closet to keep your clothes out of sight. It's a practical and tasteful solution to keep your belongings within reach while maintaining a seamless room.
STEP 3: Upgrade your Bed
Now that you have your layout and plans in place, the next step is to address the bed. 5-star luxury hotel suites have the most comfortable, luxurious beds that money can buy. Since your bed is the fundamental element for this transformation, you need to invest in high-quality mattresses and replace your old ones.
Additionally, you should change the bed covers and pillowcases to all-white linens, as seen in most hotels. In doing so, you give your room a fresh and modern look while creating a calming centrepiece that invites restful sleep with your bed.
STEP 5: Change the Lighting
Lighting sets the mood of the room, and hotels understand how it can change the ambiance of the space. Luxury hotels will not make use of a singular light source. Rather, they will implement a layered lighting scheme to give the customers options and highlight certain areas of the room.
To recreate this in your master bedroom, interior designer Singapore recommends that you first install a flush-mount ceiling light with dimmer control so you can change the brightness and adjust the mood. Then, you can add accent lights behind your headboard or on your ceiling to further enhance the mood. Lastly, you should set up reading lamps on either side of the bed to be used as task lighting. The idea is to create a more dynamic lighting scheme that gives you more control.
STEP 6: Pay Attention to Your Curtains
Luxury hotels have two sets of curtains to accommodate the visitor: the first curtain is sheer and used during the day. It allows the light to pass through while giving you a semblance of privacy. The second is a blackout curtain that is used at night to promote sleep. To transform your master bedroom into a hotel suite, you need to consider installing these curtains in your room.
STEP 7: Don't Forget the Bathroom
To complete the hotel suite transformation, you also need to update your bathroom. Extend the luxurious atmosphere in your bathroom by keeping clutter out of sight. Invest in closed storage to keep your toiletries and extra towels. You want to avoid a messy bathroom to achieve a suite aesthetic.
You can also add a touch of sophistication by integrating marble elements on your countertops or floor tiles. You can also hang artworks and other sculptural pieces to enhance the mood. Finish it off by rolling your towels neatly and accessorizing your bathroom with relaxing candles and diffusers.
Conclusion
With these simple steps, you can have a luxurious hotel experience every day in the comfort of your home. Hire an interior design studio to help you with the transformation and ensure that you achieve the desired outcome.