Kitchen Flooring Ideas to Inspire Your Next Home Renovation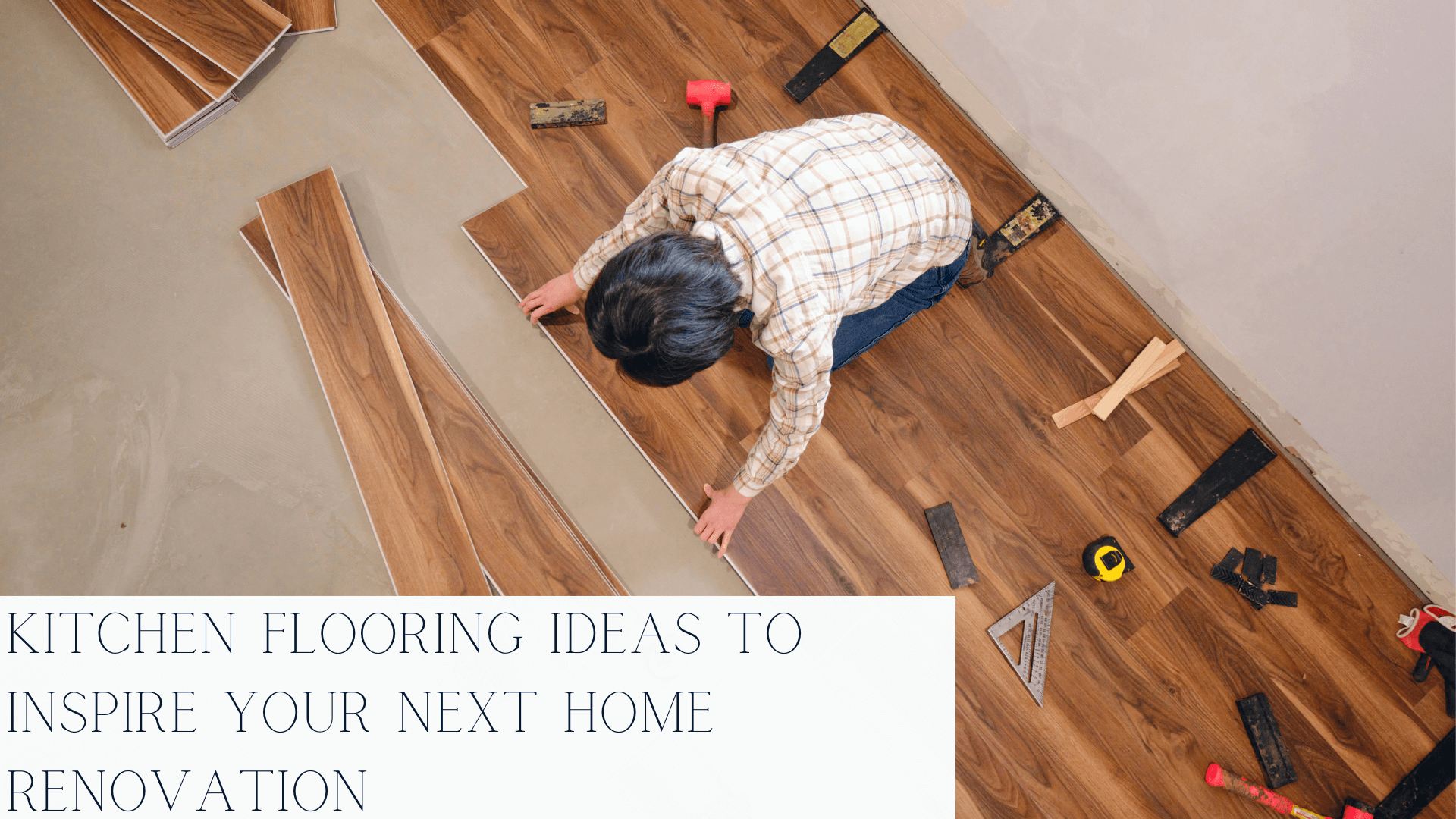 The kitchen is the heart of every home, and the flooring you choose can significantly impact the overall look and feel of the space. With so many kitchen flooring options available, it can be challenging to decide which one is best for your needs.
From durability to aesthetics, there are various factors to consider when selecting the right flooring for your kitchen. Explore different kitchen flooring materials, trends, and styles to inspire your next home renovation project.
Choosing the Right Material for your Kitchen Flooring
The kitchen is typically the busiest and most used room in the house. Therefore it is important to choose a flooring material that is durable, easy to clean and maintain, and complements the kitchen design.
Here are some popular kitchen flooring materials and their unique characteristics to consider before deciding:
Ceramic and porcelain tiles

are one of the most popular flooring options for kitchens. They are durable, low maintenance, and come in a wide range of colours and patterns. In addition, they are water-, stain-, and scratch-resistant. However, they can be slippery when wet, so consider choosing a textured finish to prevent accidents.

Vinyl flooring

is an affordable and versatile flooring material that can mimic the look of hardwood, tile, and stone. It is durable, easy to install, and comes in many colours and patterns. It is also water-resistant, making it an excellent choice for kitchens with high moisture levels. However, it is prone to scratches and dents, so make sure to opt for a high-quality vinyl.

Click-resilient flooring

is excellent for wet and dry kitchens because of its highly waterproof properties and easy click-lock overlay flooring installation. It also has various unique wood-like designs so you can go beyond conventional boring tiles.

Laminate flooring,

sometimes called wood parquet flooring, can be a viable kitchen flooring option if you do not cook much at home. But because the waterproof and moisture-resistant properties of most laminate flooring materials are comparatively lower than recommended vinyl flooring options, it may not be a good option for wet kitchen flooring.
Considerations before Choosing the Material
Here are some essential considerations to keep in mind before choosing the material for your kitchen:
Since the kitchen is probably the busiest room in the house, choose a

durable

flooring material that can withstand the wear and tear of daily use.

Another critical factor to consider is the

maintenance requirements

of the material. Know your preference in maintaining your kitchen floors – whether you clean regularly or are busy and do not have time to deep clean the floors occasionally.

Your kitchen flooring material should complement your

interior design style

, creating a cohesive look and feel. The material should match your kitchen's colour scheme, texture, and overall aesthetic. 

Your

budget

is also a crucial consideration. Determine your budget and consider materials that fall within your price range.
Kitchen Flooring Trends
Check out these latest trends in kitchen flooring and see if any of them suits your preferences and needs:
Luxury Vinyl Tiles
– A type of vinyl flooring that imitates the look and feel of natural materials (e.g., hardwood, stone
– Popular for its durability, water resistance, and design versatility
– Various styles, colours, and patterns
Large Format Tiles
– Usually bigger than traditional tiles, which means fewer grout lines and a more seamless look
– Available in various materials, including porcelain and ceramic
– Can be used to create various interior design styles, from modern to rustic
Sustainable Materials
– Become increasingly popular in kitchen flooring
– Eco-friendly, renewable, and durable
– Can add a unique and natural look to your kitchen
Patterned Tiles
– Various styles and patterns (from geometric to floral)
– Can add a unique and eye-catching element to your kitchen
– Can be used as a statement flooring material or combined with other materials to create a one-of-a-kind look
How to Incorporate Trends into your Kitchen Design
Here are tips on how to incorporate these kitchen flooring trends into your kitchen's overall design:
Consider your lifestyle and needs

– if you have a busy household with kids and pets, you may want to opt for a durable and water-resistant material, such as luxury vinyl tiles or large format tiles. However, if you are looking for an eco-friendly option, worry not because most flooring options are now eco-friendly like vinyl and wood flooring.

Mix and match

– do not hesitate to mix and match different flooring materials if you want a unique touch. For example, you could use large format tiles in a neutral colour for the most part and then use patterned tiles in a bold colour/design as an accent in one area (e.g., kitchen island)

Select a statement flooring material

– consider using a statement flooring material like patterned tiles if you want to make a bold statement in your kitchen. Patterned tiles can be used as a statement piece in your kitchen by pairing it with a neutral colour palette to create an eye-catching focal point.

Play with colour and pattern

– add personality to your kitchen by experimenting with colour and pattern. Luxury vinyl tiles come in various colours and patterns like wood- and marble-look designs. You may also find large format tiles with patterns, like herringbone or chevron. Find a design that complements your kitchen's design style.
Best Practices for Maintaining your Kitchen Flooring
Maintaining your kitchen flooring is vital for increased longevity in its appearance and durability. Here are some best practices to keep in mind:
Clean up spills immediately.

Avoid using abrasive cleaners.

Sweep or vacuum regularly.

Use a soft-bristled brush if you need to use one.

Place area rugs or mats in high-traffic areas (in front of the sink or stove).

Use felt pads under the legs of your furniture.

Or, invest in furniture coasters that can distribute the weight evenly.

Use a damp mop or cloth rather than soaking your floors when cleaning.

If you have pets, trim their nails regularly.

Inspect your kitchen flooring for any sign of damage.

Avoid prolonged water exposure on flooring materials that are not water-resistant, as it can cause warping or damage.

Use cutting boards or mats when working with sharp objects.

Avoid dragging heavy objects across the floor.
What to Ask your Interior Designer about Kitchen Flooring
Here are some questions you can ask your interior designer when discussing kitchen flooring options:
What are the most durable flooring materials for kitchen use?




Your kitchen faces faster wear and tear than any other room due to high foot traffic and spills, so you can choose what material can withstand the test of time. They will provide numerous options, from hardwood to ceramic and porcelain tiles.

What are the best flooring materials for a specific kitchen design style?




Each kitchen design style calls for specific flooring material. A modern kitchen, for example, may benefit from polished concrete or large-format tile flooring. On the other hand, a rustic kitchen may look best with natural stone tiles or distressed hardwood.

Can we incorporate eco-friendly materials into the kitchen flooring?




If you are one eco-friendly individual, ask your designer if sustainable flooring materials are available. They can add a natural look to your kitchen while being renewable and biodegradable.

What is the maintenance required for the flooring options we are considering?




It is crucial to know how to maintain your kitchen flooring properly. Do not hesitate to ask your interior designer about the maintenance requirements for the flooring options you are considering.

How will the kitchen flooring work with the overall design plan and budget?




Your interior designer can walk you through how your chosen flooring will fit into the overall design plan for your kitchen renovation and provide a detailed cost estimate.
Additional Questions you may Ask
Furthermore, you can ask the following questions if you deem they are relevant. These include:
Can this flooring be installed over my existing flooring, or does it need to be removed first?

How does the flooring you recommend match with other design elements in my kitchen, such as the cabinets and countertops?

Are there any special considerations or requirements for installing this type of flooring in my kitchen, such as underlayment or adhesive?

How long will it take to install the new flooring? Will it be disruptive to my daily routine?

Can you recommend any other flooring options that I may not have considered?

How can I be sure that the flooring we choose will meet my family's safety, comfort, and style needs?
What not to Ask your Interior Designer
These questions may sound absurd, but you will never know a slip of the tongue. Here are a few questions you should avoid asking your interior designer:
– Can we cut corners to save money?
– Can you rush the project to meet my deadline?
– Can you copy this design from Pinterest exactly?
– Can you start the renovation before finalising the design plan?
– Can you work without a contract?
– Can you do this project on the side without involving your company?
Conclusion
The flooring you choose for your kitchen can make or break the space's functionality and ambience. You can turn your vision into reality with the interior design ideas and styles presented above. If you are planning a condo renovation and looking for the perfect flooring material, consider engaging a reputable interior design company like Style+Space that offers condo renovation packages. Make your home renovation project a success by working with experienced professionals from one of Singapore's best interior design firms in Singapore.